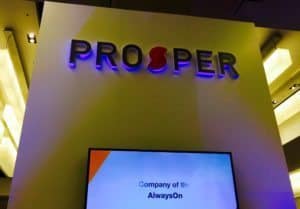 Prosper Marketplace, one of the largest marketplace lending platforms in the US, is reportedly raising capital again at a significant decline to previous valuations. According to a report in the Information, Prosper is raising equity capital at a valuation of $550 million. This represents a 71% decline versus a $1.9 billion valuation from last year. Prosper is apparently seeking a raise of $50 million.
Prosper announced in Q1 of 2017 that a group of institutional investors had agreed to purchase up to $5 billion in loans over the next 24 months. The backing included an equity element but details were not provided.
Prosper, like many other online lenders, has struggled to regain footing following a calamitous 2016 that saw investors back away from the online lending sector.  Prosper reported that total net revenue for the three months ended March 31, 2017 decreased $25.7 million, a 45% decrease from the three months ended March 31, 2016, primarily due to decreased Borrower Loan originations. The reduction in revenue has been met with operating expense reductions as management seeks to reinvigorate the online lending platform.
From inception through March 31, 2017, Prosper has facilitated $8.9 billion in Borrower Loan originations, of which $7.6 billion were funded through their Whole Loan Channel, representing 86% of the total Borrower Loans originated.