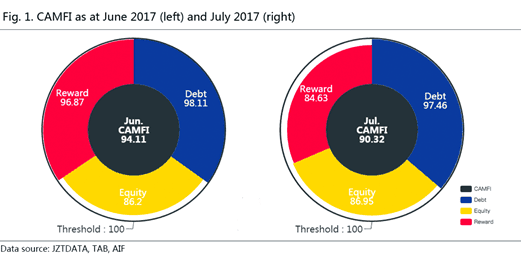 TAB  (née Crowdsurfer) is out with an update on the status of alternative finance around the world. According to the data platform, alternative finance remains robust even as their Crowdfunding and Marketplace Finance Index (CAMFI) indicates a slight summer slowdown. CAMFI exhibited a decline last month, dropping from 94.11 in June to 90.32 in July.
CAMFI incorporates both investment aspects, including debt and equity, and rewards based projects. The INDEX is constructed using three main attributes that measure the market's Scale (market volume), Efficiency (financing rate), and Transparency (information disclosure).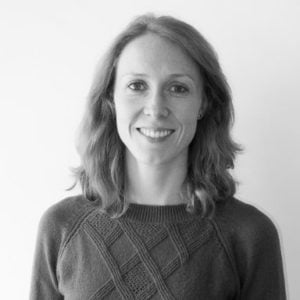 Commenting on the slight downturn, Emily Mackay, CEO of TAB, stated;
"With the holiday season beginning it is not unexpected that June and July would be lighter months than May (which saw a grading of 101.49), with raises slowing up across the globe and in the northern hemisphere particularly. This also fits with the wider global economic picture."
TAB said that a drop in rewards projects was the major cause of the dip. Industry scale continued to shrink most evidently in rewards. Debt has stayed relatively stable, which is expected given it is such a large and diverse market. Equity has seen had a significant downturn in trading, according to TAB.
Despite the summer slowdown, TAB said the industry is growing rapidly year over year. TAB shared the following numbers:
In 2014, campaigners in the UK raised over $2 billion via crowdfunding platforms. In 2016, they raised over $3.96 billion.
China is demonstrating huge growth, with companies raising $134 million via crowdfunding platforms in 2014. In 2016, they raised $2billion.
France is also seeing significant growth, with companies raising $70 million in 2014, and $159 million in 2017 to date.
In 2014, companies raised $5.4 billion in debt finance globally, increasing to $12.7 billion in 2016.
In 2014, companies raised $345 million in equity finance globally, increasing to $766 million in 2017 to date.
Rewards finance raised via crowdfunding globally has increased from $680 million in 2014 to $1.1 billion in 2016.
The Real Estate industry raised $1.2 billion via crowdfunding in 2014. In 2016, it raised to $3.8 billion.
The Capital Goods industry raised $751 million in 2014. This year to date, it has raised $1.4 billion.
"Despite the slight downturn, the long-term health of the alternative finance market is looking very strong," added Mackay. "While the UK and US have traditionally been the biggest players in the space to date, we are seeing huge growth across regions including China, Japan, France and Italy. We expect the growth of the last three years to accelerate over the next three."
CAMFI is a joint venture between crowdfunding analytics company,TAB, Zhejiang University AIF as academic adviser, Hangzhou JZTData Science and Technology Co., Ltd and BBD UK.

Sponsored Links by DQ Promote