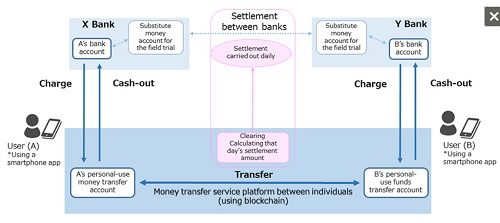 Fujitsu has announced an agreement with Mizuho Financial Group, Sumitomo Mitsui Financial Group, and Mitsubishi UFJ Financial Group, to conduct a field trial of a "person-to-person money transfer service" using Blockchain technology. The trial is scheduled to commence in January 2018 and last for three months. The project is described as adapting to an "increasingly monetarily diverse, cashless society."
For this field trial, Fujitsu will develop a cloud-based blockchain platform for money transfers between individuals that can be jointly used by these banks, as well as a smartphone application that allows users to handle the different steps for sending money and for making deposits and withdrawals.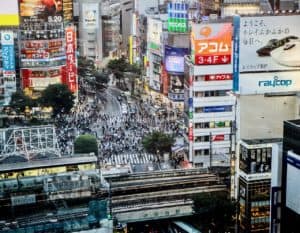 Fujitsu and the three banks will verify that this system can link a money transfer account for individuals using this platform. The field trial will also confirm whether the new platform can accurately and securely handle a series of processes, including transferring value between money transfer accounts for individuals, as well as clearing and settlement.
Fujitsi added that Fintech, including Blockchain, represents an opportunity to develop many cutting edge services