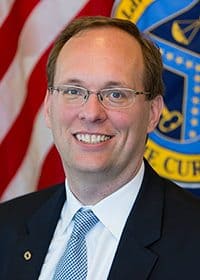 At Georgetown University today, Acting Comptroller of the Currency Keith Noreika reaffirmed his belief that Fintech s should have the option to apply for a national bank charter or Fintech Charter as it is frequently called. While there was little new in the presentation delivered in DC, Noreika expressed his opinion that Fintechs must be ready to meet their "admittedly high expectations." Noreika did address the "slipper slope toward the mixing of banking and commerce." He explained these concerns have been exaggerated with the intent of undermining the Fintech Charter.
"People who make this argument suggest that such mixing would result in destabilizing the market and increase consumer abuses . That idea has been blown out of proportion . I merely suggested that we should talk to any company interested in becoming a bank and that commercial companies should not be prohibited from applying — if they meet the criteria for doing so.. Talking about and applying for are a long way from approval of a n application , and even further away from resulting in the kind of harm and abuse suggested."
Noreika did mention the law suits filed by the New York Department of Financial Services and the Conference of State Bank Supervisors. Both entities are challenging the OCC's authority to issue charter to Fintech firms.  Of course these challenges are simply using the courts to undermine looming competition from more agile Fintech firms.
Most reasonable people understand the need to create a streamline regulatory regime to allow Fintechs to operate nationally without having to be blessed by 50 different states. Unfortunately traditional finance and state regulators will fight it tooth and nail as they battle for relevance.