The Bangko Sentral ng Pilipinas (BSP) and the Monetary Authority of Singapore (MAS) announced on Thursday they have signed a Fintech Co-operation Agreement (CA) to promote innovation in financial services in their respective markets. The BSP-MAS CA was signed at the sidelines of the second annual Singapore FinTech Festival, which is currently being held in Singapore.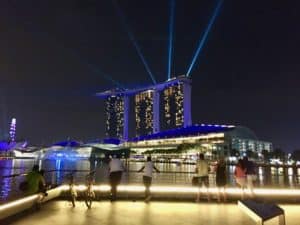 According to the two organizations, the CA provides a framework for co-operation and collaboration between the two authorities relating to fintech. The duo stated that authorities will be able to refer promising fintech firms to each other, share emerging fintech trends and developments, and facilitate work on fintech projects together. These projects could involve tapping on new financial technologies, like distributed ledgers, to provide innovative solutions to industry problems, such as facilitating faster cross-border payments and streamlining "know-your-client" (KYC) processes.
Nestor A. Espenilla, Jr., Governor of BSP, explained:
"The agreement serves as a seal of commitment between BSP and MAS to elevate financial innovation in both jurisdictions.  The CA provides avenues for greater collaboration through a more defined structure and referral system for FinTech players between the innovation functions of each authority.  The BSP looks forward to exciting times ahead as the CA unlocks diverse opportunities for new collaborations to prosper that maximize benefits of innovative technologies.  This would ultimately pave the way for a more progressive, modern and inclusive financial system."
Ravi Menon, Managing Director of MAS, then added:
"MAS and the BSP are like-minded in their focus on harnessing financial technology to reduce inefficiency and benefit individuals and businesses. This Cooperation Agreement between our two agencies provides a framework for promoting financial innovation not only in our countries but can also potentially contribute to broader efforts in ASEAN."
The MAS is Singapore's central bank and integrated financial regulator. The organization promotes sustained, non-inflationary economic growth through the conduct of monetary policy and close macroeconomic surveillance and analysis. BSP is the central bank of the Republic of the Philippines established as the country's independent central monetary authority. It is responsible for maintaining price stability through sound monetary policies that are conducive to a balanced and sustainable growth of the economy.