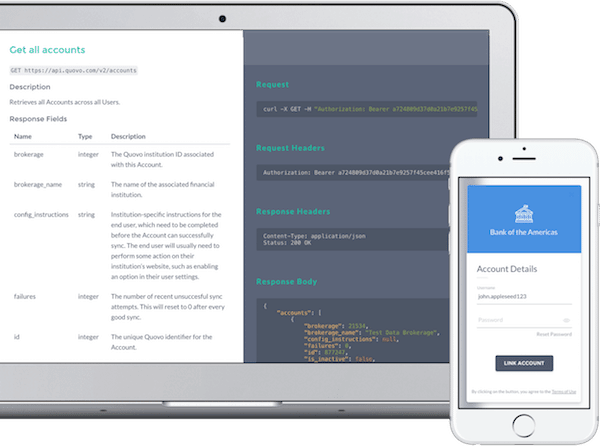 Quovo, a fintech company that leverages data to provide insights alongside connectivity for financial accounts, announced on Wednesday it has launched Personal Finance Management (PFM) modules for financial institutions and enterprises. The modules notably allow end-users to measure their net worth over time, view a personal balance sheet, track spending, improve budgeting, and progress toward financial goals.
According to the company, these new modules are designed to enable a new level of optionality for financial firms looking to implement account aggregation and innovate digitally. Built on Quovo's API layer, the new PFM tools are entirely modular, enabling unprecedented control and configuration for enterprises considering whether to build or buy key elements of a client portal.  Niko Karvounis, Chief Product Officer and co-founder of Quovo, stated:
"Account aggregation is a must-have centerpiece for any digital strategy in fintech, but sometimes larger firms are unsure how to decide between building on Quovo's API or purchasing an out-of-the-box front-end to improve speed to market. With the launch of Quovo PFM, we now support the full spectrum of configuration options for deploying world-class account aggregation, including directly via our API, through embeddable modules, within a full dashboard — or even a combination of our approaches. Ultimately, our goal is to not only broaden the accessibility of our aggregation but also to accelerate digital roadmaps across the industry."
As previously reported, Quovo believes that by providing efficient access to financial account aggregation and analytics via APIs and front-end dashboards, their platform can play a key role in driving the ongoing digital transformation in wealth management. The launch of Quovo's PFM modules comes less than a year after the company raised $10 million in Series B funding.  Existing investors FinTech Collective and Long Light Capital were joined by F-Prime Capital and Napier Park Financial Partners to provide the capital.
Quovo added that the modules can be implemented as a full package or as individual widgets delivered through Quovo Connect.