Hester Peirce and Robert Jackson were both confirmed by a Senate voice yesterday as Commissioners at the Securities and Exchange Commission. Peirce will immediately begin a term that expires in 2020. Jackson will complete the remainder of a term that expires in 2019.
The confirmation of Peirce and Jackson now brings the Commission up to full staff of five along with Commissioners Michael Piwowar, Kara Stein and SEC chair Jay Clayton. This is the first time in several years the Commission has been completely staffed.
Jackson, a Democrat, is a Professor of law at Columbia as well as director of Columbia's Program on Corporate Law and Policy. He previously served at the US Treasury Department during the financial crisis working on the TARP program.
Peirce is a Senior Research Fellow at Mercatus Center where she has focused on the regulations of markets. Peirce was previously nominated by President Obama to fill a Commission vacancy but certain Senate democrats shot down the appointment, along with another Democrat appointee, in an unanticipated move by the Senate Banking Committee.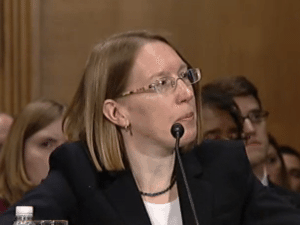 Peirce commented on her confirmation;
"While at Mercatus, I have had the opportunity to work with people who share my passion for high-quality regulation. My colleagues have deep expertise about how markets and governments work and what we can do to ensure that they work better for the societies they serve," said Peirce. "I will carry the lessons I have learned at Mercatus to the SEC as I focus on protecting investors, upholding market integrity, and facilitating capital formation."
Sponsored Links by DQ Promote