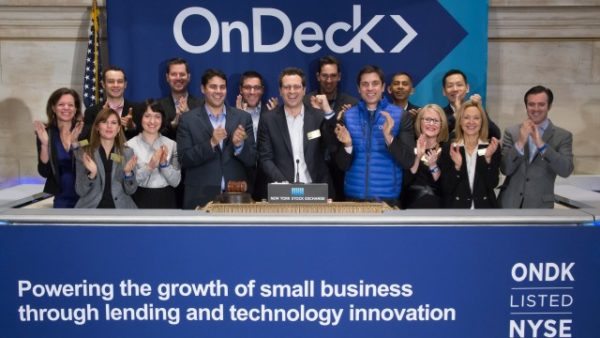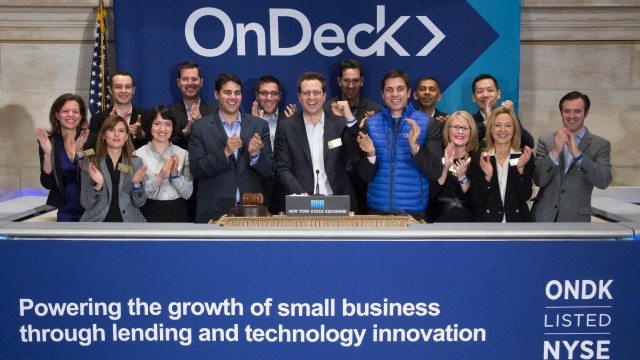 Online lending platform for small businesses OnDeck (NYSE: ONDK) announced on Tuesday the release of its fourth quarter and full 2017 year financial results. The online lender reported it achieved a record $5 million of GAAP net income during the fourth quarter. While sharing more details about the year's financial results,  Noah Breslow, OnDeck CEO, stated:
"2017 was a transformative year for OnDeck, marked by our strategic decision to strengthen our financial profile and accelerate our path to profitability. In the fourth quarter, we delivered on this objective, achieving over $5 million of GAAP profit, $41 million better than 2016's fourth quarter results. In addition to this significant profit growth, we grew origination volume, controlled expenses and increased our Effective Interest Yield to its highest levels since 2015.  Credit performance continued improving in the fourth quarter while our Provision Rate, 15+ Day Delinquency Ratio and Net Charge-Off Rate all achieved their lowest quarterly levels of 2017.
"Looking ahead to 2018, we expect to drive double digit loan growth due to our strong customer demand, disciplined risk management and focus on scaling responsibly. With improved credit performance and loan yields, our realigned cost structure and a secure funding base, we are well-positioned to build on our success and continue margin expansion."
OnDeck reported the facial results for fourth quarter 2017 were:
Originations were $546 million, up 3% from the prior quarter. 

Gross revenue increased to $87.7 million, up 7% year-over-year driven primarily by higher interest income. 

Gain on sale was $0.6 million. Loans sold or designated as held for sale through OnDeck Marketplace® represented 3.9% of term loan originations.  Other Revenue was $3.5 million, up from $3.4 million in the prior quarter, primarily reflecting increased revenues from the OnDeck-as-a-Service (ODaaS) business, offset by a $0.7 million reduction in the fair value of the Company's loan servicing asset.

Net revenue was $42.1 million, up 159% versus the prior year period, driven primarily by higher gross revenue and lower provision expense.

Provision for loan losses was $34.4 million and the Provision Rate was 6.4%.  

The fourth quarter 15+ Day Delinquency Ratio was 6.7% and the average term loan age in OnDeck's portfolio was 4.2 months.  The Net Charge-off rate in the fourth quarter was 12.9%, down from 16.9% in the third quarter of 2017.

The Cost of Funds Rate was 6.5%. Additionally, in the fourth quarter, an investment advisor subsidiary of BlackRock joined OnDeck's platform of financing partners. 

Operating expense was $37.7 million.  

OnDeck also revealed its financial goals for Full Year 2018
Gross revenue between 

$370 million

 and 

$382 million

.
GAAP Net income (loss) attributable to OnDeck between 

$(2) million

 and 

$10 million

.
Adjusted Net income between 

$16 million

 and 

$28 million

.
OnDeck explained:
"This outlook assumes unpaid principal balance growth between 10% and 15%, a full year provision rate between 6% and 7%, noteworthy real estate disposition and debt extinguishment costs between $4 million and $5 million, and an additional approximately $5 million investment compared to the annualized Technology and Analytics operating expense of the fourth quarter 2017."
OnDeck also provided the following guidance for the full year ending December 31, 2017 and three months ending March 31, 2018.
Gross revenue between 

$86 million

 and 

$90 million

.
GAAP Net income (loss) attributable to OnDeck between 

$(5.5) million

 and 

$(1.5) million

.
Adjusted Net income between 

$1 million

 and 

$5 million

.
"This outlook assumes between 5% and 10% sequential originations growth and approximately $43 million of operating expense which includes the $3.2 million charge for the partial termination of our New York office lease."
OnDeck then added it may be able to make additional dispositions of portions of its office space during 2018, which would produce multi-year savings but would likely require cash or non-cash charges or both in the quarter the transaction(s) are booked.
"OnDeck's first quarter and full year 2018 guidance includes the $3.2 million charge related to the partial termination of our New York office lease.  Any future real estate disposition charges are not included.  Refer to the Non-GAAP Guidance Reconciliation section below for a reconciliation of Adjusted Net Income guidance to GAAP Net income guidance."
Sponsored Links by DQ Promote