Amazon is one of the most innovative and disruptive big tech companies today. Led by visionary Jeff Bezos, Amazon's story starts from humble beginnings as a mere book seller. Today, Amazon is pointing its tech guns at many different industry. Sure, Amazon is the place where everyone shops for clothes, hardware, jewelry and more, but Amazon has also entered the grocery space with its acquisition of Whole Foods, pioneered its own delivery service and has provided billions of dollars in online lending to its e-commerce partners. It has been rumored that Amazon is in the process of launching an insurance platform.
Amazon is willing to take big risks and then execute on providing future services we don't always need right now. So when LendEDU emailed over some polling data of 1,000 consumers that had purchased something off Amazon in the last 30 days and asked them a series of hypothetical questions related to Fintech and digital currencies, we took a quick look.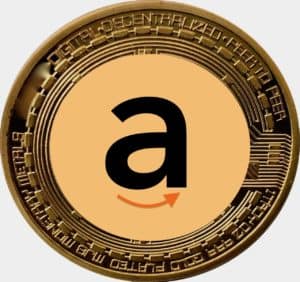 According to LendEDU;
51.7% of Americans would use an Amazon-created virtual currency for purchases
44.5% of Americans would use an Amazon-created bank account as their primary bank account. 49.6% would use an Amazon savings account
50.3% of Americans would use an Amazon-created personal loan, while 30.2% would use an Amazon-created mortgage, and 45.3% an Amazon auto loan
36% would use a retirement investment account created by Amazon
44.5% would use an Amazon-created auto-insurance plan, while 37.5% would use an Amazon life insurance plan, and 35.8% would use an Amazon health insurance plan
55.2% would use an Amazon-created credit monitoring service
54.7% would trust Amazon to provide them with OTC and prescription medicine
38.3%, the plurality, would have the same level of trust in Amazon handling their finances when compared to a traditional bank. 17.2% would have more trust in Amazon over a bank.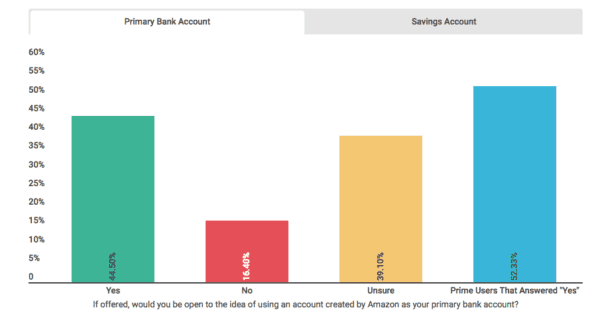 Fintech is all about disrupting traditional financial services providers to provide better, more streamlined offerings at a lower price point. Amazon is perfectly poised to be a leader in the financial services industry as it leverages its huge pool of big data and consumer trust it has established during the past decades. So is it outside the realm of possibility that Amazon will launch a bespoke virtual currency in an initial coin offering? Not at all. Should Amazon be providing banking services to both consumers and businesses including investment services and expanded credit offerings. We hope so.  So who wins if they decide to pursue this path? The consumer. Who loses? Legacy banking institutions that are hobbled by legacy tech and a culture that fears change like Dracula fears daylight.

Sponsored Links by DQ Promote