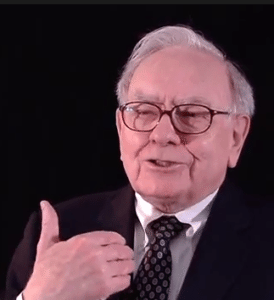 Warren Buffet, the founder of Berkshire Hathaway and a legendary investor, is no fan of cryptocurrency. Speaking with CNBC this week during their annual shareholder meeting, Buffet told Becky Quick that bitcoin is "rat poison squared." Not exactly a compliment. Buffet believes that "cryptocurrencies will come to a bad ending."
"The asset itself is creating nothing," said the Oracle of Omaha. "When you're buying nonproductive assets, all you're counting on is the next person is going to pay you more because they're even more excited about another next person coming along."
Charlie Munger, Warren Buffet's longtime partner at Berkshire Hathaway, hammered cryptocurrency as well. Speaking with YahooFinance, Munger stated;
"The computer science behind bitcoin is a great triumph of the human mind. They created a product that's hard to create more of but not impossible. [But] I see an artificial speculative medium, in which people can sell it to someone else at a higher value with no intrinsic value behind it. It's "anti-social, stupid and immoral."

"Suppose you could make a lot of money trading freshly harvested baby brains. Would you do it? To me bitcoin is almost as bad. I regard the whole thing as a combination of dementia and immorality. I think the people pushing it are a disgrace. There ought to be some things that are beneath you, that you just don't do, and this is one."
.@WarrenBuffett on bitcoin just now: "it's probably rat poison squared." #brk2018

— Becky Quick (@BeckyQuick) May 5, 2018
Of course, crypto believers chimed in on Twitter with their ETH 0.02, stating;
"He [Buffet] has demonstrated no understanding of Bitcoin- what it is or how it works. That's why his opinion is irrelevant."
"He also said he was "too dumb to buy Amazon stock". So…… sounds like he has the same situation with bitcoin."
"if bitcoin is rat poison, who is the rat?"
There is plenty more.
Nigel Green, founder and CEO of deVere Group –
"It comes as little surprise that Mr Buffett and his 94-year-old business partner, Charlie Munger, criticized cryptocurrencies at their annual meeting. They have done so consistently. But what I do find monumentally baffling is that two of the world's most successful investors cannot see the intrinsic value of some form of cryptocurrency. Do they honestly believe that there is no place for, and no value of, digital, global currencies in an increasingly digitalized and globalized world? Do they not see many of the world's major tech companies, established banking groups and household name investors investing in, using and/or beginning to adopt cryptocurrencies? Do they not see governments, central banks and financial regulators recognizing the need for regulatory frameworks because cryptocurrencies are becoming so mainstream?"
Green acknowledges that Buffet is a "hero" but needs to educate himself on the value of crypto.
"Financial traditionalists, like Mr Buffett and others, appear to exclusively believe in and be motivated by the old, centralized system of money … Whether they like it or not, the world has profoundly changed and moved on in recent years. It can't, and won't, go backwards."
---
Buffett: Bitcoin is an asset that creates nothing from CNBC.

Sponsored Links by DQ Promote