Ping An Fin+Tech Accelerator, powered by SparkLabs, announced on Friday the launch of its first batch. According to the accelerator, 10 companies were selected out of more than 120 applicants from around the world with applicants ranging from seed stage to Series B companies.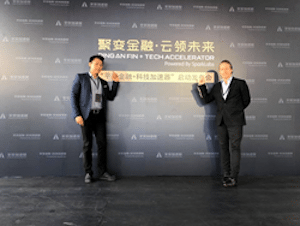 Ping An reported that it has invested more than $7.5 billion in fintech, healthcare, artificial intelligence industries in the past decade. It also has developed over 200 projects in the following areas: financial service, transportation, accommodation and government service with AI capability. The company reported that with the support of Ping An Group and Ping An Cloud ecosystem, Ping An Fin+Tech Accelerator is focused on finding and partnering with innovative finance plus technology companies from around the globe to drive the technology revolution. Speaking about the partnership with Ping An, William Chu, Managing Partner with SparkLabs FinTech, stated:
"We are excited to be partnering with Ping An, and to be working with such a strong group of companies. The average capital raise for the ten companies prior to joining this first batch was $3.2 million, and more importantly, it's a great group of founders. We designed the program for the innovative companies to fully leverage the resources from Ping An Group and SparkLabs right from the start, and we expect strong traction for every cohort."
The companies selected for the first batch are the following:
Funding Xchange: A company that is on a mission to seize the power of data made available through open banking, cloud accounting and other sources to enable "one-click" funding applications to banks, alternative lenders and specialist financing providers.
Canopy Cloud: A platform that aggregates all assets and provides visualization, reporting, analysis and client communication.
Velotrade: An online marketplace where SMEs get funding by selling their invoices to investors who earn above market returns with attractive risk/return profiles.
HedgeSPA: A core investment platform built on artificial intelligence, big data, and cloud computing.
Kangpe: A company that uses mobile phones, telemedicine and data science to make health insurance cheaper and easier to purchase for the over 900 millions Africans who do not have access to health insurance.
UBiAi: An automotive data and AI startup and national high-tech enterprise in China. They aim to utilize the connected car data to drive innovation in automotive finance and insurance business, and provide the best experience digital service to the automotive customer.
Gliding Eagle: A technology company using blockchain and cloud based system to track each individual product item from the source to the end consumer around the world. They are using this system to ensure direct delivery of latest hepatitis and cancer drugs to Chinese hospitals.
vPhrase: A company that provides an AI product that summarizes data into a few bullet points which highlight the key insights people need for decision making.
The CareVoice: An insurtech transforming healthcare to be more consumer centric. At the core of the company mission is an independent mobile social platform that provides trusted, community-sourced ratings and recommendations on top-quality healthcare services.
FonePay: A payment app that empowers users for their everyday payments needs straight from one app, and no matter who they bank with and where they shop.
Sponsored Links by DQ Promote