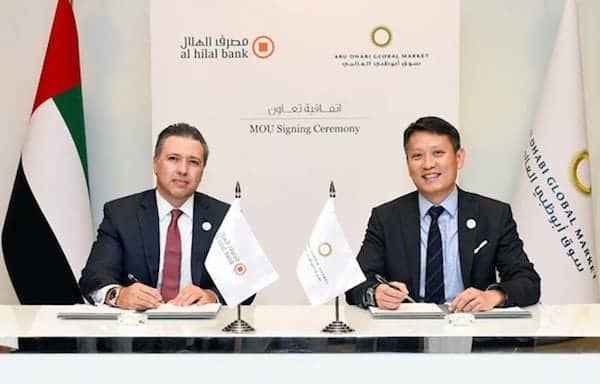 Al Hilal Bank announced on Tuesday it has formed a new partnership with the Abu Dhabi Global Market (ADGM), the International Financial Centre in Abu Dhabi, aimed at promoting Islamic Finance in Abu Dhabi and across the UAE. According to Al Hilal Bank, the Memorandum of Understanding (MoU) provides an official platform for both Al Hilal Bank and ADGM to share and exchange key knowledge exchange, consult and collaborate on mutually beneficial initiatives to further support and build an innovative and competitive environment for Islamic Finance.
Through the agreement, Al Hilal Bank can do the following:
Will work closely with the FSRA in the development of Islamic products.
Will set up special purpose vehicle within the ADGM to enable the accomplishment of a number of key strategic initiatives.
Al Hilal Bank and ADGM will also collaborate on the development and application of technologies specifically designed to address real business challenges including mobile and e-banking, digital value-added services, blockchain, APIs, and automation. While sharing more details about the partnership, Alex Coelho, CEO at Al Hilal Bank, stated:
"ADGM holds a critically important role in expanding the UAE's global reach and it is our pleasure to embrace this mutually beneficial partnership. We strongly believe that holding hands with ADGM not only further strengthens our capabilities but also accretes value to the transformation of our industry for the benefit of our stakeholders, customers, employees, the community we serve and our financial partners. We are fully committed and looking forward to achieving success through this partnership while foreseeing the deployment of solutions and services that will solve some of our common challenges and increasing our market bandwidth."
Richard Teng, CEO, Financial Services Regulatory Authority of ADGM, added:
"ADGM is pleased to partner Al Hilal Bank, one of the most progressive home-grown Islamic banking leaders, on initiatives and programmes that serve to bolster the Islamic financial market and enhance the Fintech ecosystem in Abu Dhabi. We share the common ambition to provide a conducive environment for more fresh and innovative solutions to address the needs of consumers and our stakeholders in Abu Dhabi and regionally. Together, we can grow and strengthen Islamic banking offerings and the financial landscape in Abu Dhabi."