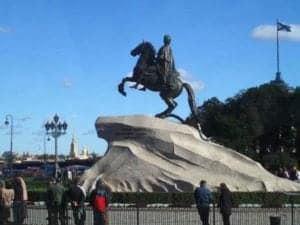 Following invitations issued by local politicians last fall, the regional government of Leningrad in northwestern Russia has now announced the opening of the country's, "largest data processing centre…designed to extract digital currency," Bitcoin News reports.
The 4000 square metre "crypto mine" and its 3000 machines will be housed on the site of a former fertilizer lab in the Levoberezhny industrial park in Kirishi, a site that has been vacant for 20 years.
The mine will "extract" bitcoins and litecoins in mathematical computing processes known as "proof-of-work." The mine is expected to consume 20 mW of power.
The facility, which is in the same region as Russia's cultural capital, St Petersburg, is said to have cost the company Cryptouniverse around 500 million rubles to build (about  $7.3 million USD).
The mining centre's co-founder Alexei Korolyov reportedly told The Japan Times that, "Any private investors can place their equipment on the territory of the mining center or rent its computing power."
Last fall, the governor of the Leningrad region, Alexander Drozdenko, invited crypto miners to the area and suggested that the Leningrad Nuclear Power Plant could be used to power crypto mining.
"Production sites that are being released during the construction of new power units of the Leningrad nuclear power plant will be available for new residents as early as 2018," Governor Drozdenko told attendees at the "Energy of Opportunities" Forum, an annual meeting to discuss and promote business opportunities for small and medium enterprises in the Leningrad region.
Governor Drozdenko also said then that he had been in active talks with Alexey Likhachev, the Director General of the Rosatom State Atomic Energy Corporation, regarding how, "the liberated facility of Leningrad NPP can be used as a technopark designed for cheap energy."