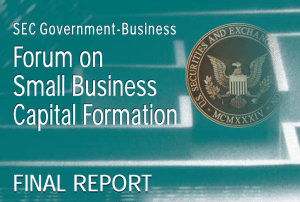 The Securities and Exchange Commission (SEC) has scheduled the annual Government-Business Forum on Small Business Capital Formation for this coming December and this year they are taking the event to the Buckeye state.
The SEC announced today the Forum will be held at the Ohio State University Max M. Fisher College of Business on December 12th.
The SEC has partnered with the National Center for the Middle Market at The Ohio State University Max M. Fisher College of Business to host the event.
This annual forum typically involves all of the SEC Commissioners and is open to the public. Topics of discussion obviously involve small business but frequently the crowdfunding exemptions are reviewed along with other current hot topics of capital formation.
"We have made it a priority to reach out to small businesses across the country. Holding this event in Columbus, one of the top five best cities for entrepreneurs and startups, will give us the opportunity to hear directly from small businesses and their investors on ways to improve our regulatory system," commented SEC Chairman Jay Clayton.
According to the SEC, the morning session will feature a panel discussion exploring how capital formation options are working for small businesses, such as those in the Midwest.
Participants will then work in groups to formulate specific policy recommendations. Two channels appear to be on the list: Reg A+ and other exempt securities. The recommendations will be packaged up in document and sent to Congress for review.
In is interesting to note that the Forum is supposed to be held in conjunction with the SEC Small Business Advocate. This new position was signed into law during the Obama Administration but has yet to be filled. This publication has heard about several highly qualified individuals seeking the role  yet the SEC has not yet moved on a new appointment.
Information on the panel participants and the full agenda will be announced in the coming weeks.
The forum will begin at 9AM ET.  It will be held in the Fawcett Center on the campus of The Ohio State University in Columbus, Ohio.
If you cannot make it to Ohio – no fear. The proceedings will be live streamed on the SEC website.
Anyone wishing to participate in a breakout group either in person or by teleconference must register online by Dec. 7.