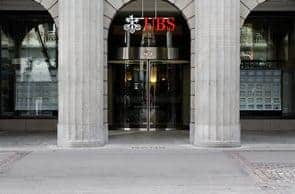 UBS, Switzerland's largest bank, was fined 4.5 billion Euros ($5.1 billion USD) Wednesday for "aggravated money-laundering of the proceeds of tax fraud" as well as "illegal bank soliciting" for its alleged role in helping wealthy French citizens avoid taxes, Associated Press reports.
Five former UBS executives were reportedly also fined and given suspended sentences in the case.
The fine is said to be the largest ever imposed in France, and AP believes it is meant to send a message to tax evaders and the firms enabling them.
UBS, which is also one of the globe's biggest wealth management organizations, has reportedly "slammed" the report and has promised to appeal.
In a strongly -worded statement from the bank regarding the Paris ruling, UBS states that it rejects the court's finding and says the ruling was based on "no concrete evidence":
"Instead, the verdict is based on unproven allegations by former employees who were not even heard at the trial."
The bank also says that the ruling is extra-judicial on the part of France:
"No evidence was provided that a French customer was approached by a client advisor of UBS AG for an account opening in Switzerland. Since there is no offense in France, the judgment effectively applies French law to Switzerland. This undermines the sovereignty of Swiss law and raises significant questions regarding territoriality."
UBS services provided in France, says the company, were, "legitimate and standard …under Swiss law…(and) also common in other jurisdictions."
Prosecutors, on the other, alleged that UBS indeed did solicit high-net-worth French individuals, at music and sports events, for instance, to deposit monies in Switzerland with UBS.
Courts also contended that an estimated 10 billion euros ($10.75 billion USD) was concealed at UBS between 2004 and 2012.
UBS had previously rejected an offer to settle the case for 1.1 billion euros.
The bank also reportedly paid $780 million USD in a 2009 deal it made with American authorities for allegedly aiding tax evasion there.