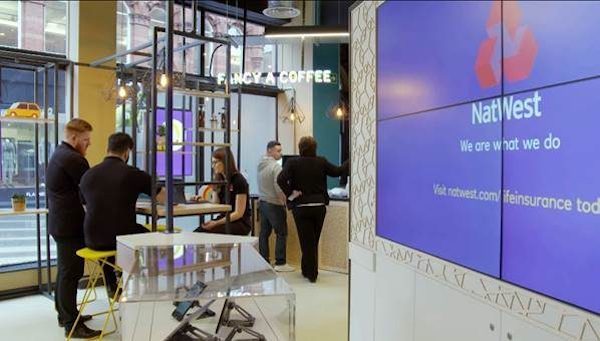 UK banking group NatWest announced last week it has opened a new digital branch in Leeds Victoria. According to NatWest, the digital store gives customers the space and opportunity to complete their banking online in a secure environment, with staff to help with more complex or technical issues.
"In the new NatWest digital store, customers can drop in and have a coffee while carrying out transactions, either on their own or branch devices. They will also be able to book a session with a personal banker for more complex needs, such as advice on getting on the housing ladder, new products, or to better understand their finances through a financial health check. This means busy customers will no longer need to waste time in queues, instead booking to speak to advisors when it suits them best."
NatWest also revealed that the digital store will also act as an events space, where anyone – not just NatWest customers – can come in for sessions where they can learn how to protect themselves from scams and manage their finances. These include Friends Against Scams sessions – delivered in partnership with National Trading Standards – to protect people from becoming victims of scams. Speaking about the new space, Michael Burrow, Regional Managing Director for the North, NatWest, stated:
"I am excited to see the new digital store in Leeds Victoria come to life. For many banking activities, customers are increasingly comfortable with – and often even prefer – self-service banking options. However, we know that for some transactions customers may prefer talking through options face to face and we hope this new set-up will allow our staff to spend more time with these customers to better support hem with their banking needs."
NatWest went on to add that the new digital store is a new store and will not replace the existing branch Park Row, which will continue to offer more traditional banking service.