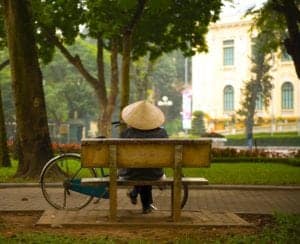 KRONN Ventures AG, a Switzerland based blockchain focused company, has signed a memorandum of understanding(MOU) with Linh Thanh Group, for the "production of cryptocurrency and the establishment of cryptocurrency exchange" in Vietnam. According to a release, the group has received a license from regulators to launch the crypto exchange.
Privately held Linh Thanh Group is described as the "largest distribution company in Vietnam."
KRONN has published a white paper on its objectives.
In 2018, KRONN states that it formed a consortium with five Asian developing countries including Vietnam, Philippines, Cambodia, Bangladesh, and Sri Lanka to build an "international wiring system using blockchain technology that fits with the Asian environment."
Recently, regulators around the world have stepped up their scrutiny and push for compliance for online marketplaces that trade digital assets. The Linh Thanh Group said that working with KRONN Ventures would lead to a world-class cryptocurrency exchange.