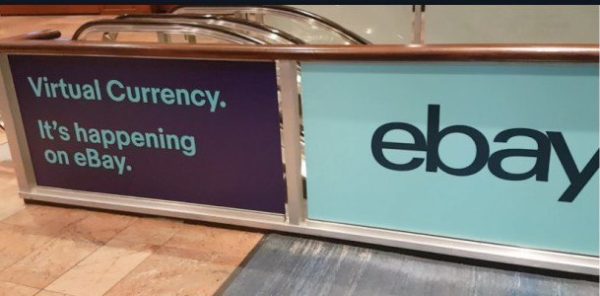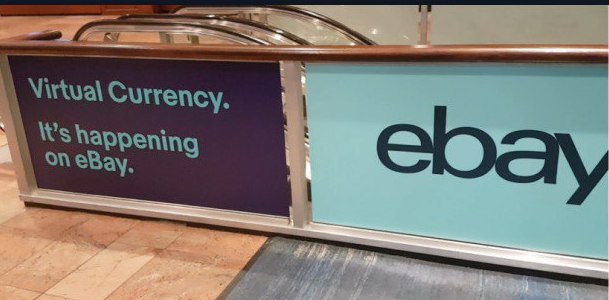 Is eBay (NASDAQ:EBAY) going crypto?
According to a multitude of posts displaying eBay banners at Consensus indicating "virtual currency. It's happening on eBay," that may be the case.
If the chatter is true, eBay may be joining alongside its big tech brethren Facebook which is expected to jump into the virtual currency sector as well. Recent reports have indicated that Facebook is hiring PayPal veterans to staff the project which is expected to be a stablecoin that focuses on simplifying payments.
eBay currently offers buyers a variety of payment options, including credit card, direct debit, Apple Pay, Google Pay and PayPal. Adding a crypto option just makes sense.
In the most recent quarter ending in March, eBay delivered revenue of $2.6 billion, increasing 2% on an as-reported basis and 4% on a foreign exchange (FX) neutral basis. Dealing with forex, the multitude of currencies its business accepts around the world, is a huge management task for the global firm.
Today, eBay is very active in the derivatives market to reduce the volatility of earnings due to changes in foreign currency pricing and interest rates. Sometimes these changes can be jarring for a business. These hedges do not entirely eliminate the risk but it does mitigate it to a certain degree.
Just think if eBay only had a single currency to manage? A stablecoin that didn't need an FX department to manage the daily fluctuations that impact its business. That could save eBay a bundle. At the end of Q2, eBay held total derivative assets affiliated with foreign exchange of $ 334 million.
There is also the fact that some people may be interested in transacting in various virtual currencies. So if there is a demand, why not supply it? eBay currently reports 180 million buyers globally. You can bet a Bitcoin some of these customers are deep into crypto.
In the end, it is all about streamlining the customer experience and reducing transactional costs. Of course, eBay has yet to announce anything, but if the reported banners at Consensus indicate anything at all – expect an announcement soon.
Update: eBay has responded to an email asking for clarification on their banners and this is what a spokesperson had to say:
"Cryptocurrency is not accepted as a form of payment on the eBay platform, nor is it part of our payments strategy. Our payment options can be found here: http://pages.ebay.com/help/policies/accepted-payments-policy.html"
It appears that the banners may simply reference the virtual currency items currently on sale on the eBay marketplace. There are a good number of listings on eBay for mining hardware as well as mining contracts.

So no eBayCoin yet.

Sponsored Links by DQ Promote