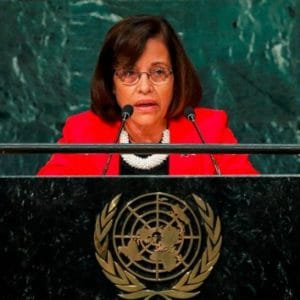 Governing politicians in the Marshall Islands have issued a press release and video explaining their plans to develop, implement and sustain a "sovereign" national cryptocurrency (SOV) intended to, "…combat poverty and climate change" in the Pacific Island nation.
The country's current President, Hilda Heine, survived a non-confidence vote last year brought against her by rival politicians seeking to relieve financial problems on the islands by making the country a tax haven rather than an issuer of a national cryptocurrency/ instrument for speculation.
Heine survived the vote by a margin of one, and her current Finance Minister, David Paul, in collaboration with private company SFB Technologies, has since pushed on with the development of the SOV.
The corresponding press release details how the SOV will be managed by a "fully independent" SOV Development Fund presided over by, "…a board of seven directors…" comprised of qualified individuals:
"Two directors will be nominated by the government of the Marshall Islands, and two will be nominated by SFB Technologies, the company hired by the government to develop SOV's compliant blockchain infrastructure. These four directors will then unanimously appoint three further directors, elected from among internationally recognized luminaries in the fields of blockchain, banking, and monetary management…Qualified majorities will be required for all major decisions, to ensure the fund operates with prudence and stability and adheres to its mandate."
Paul also states in the video that, "…every citizen will receive a sizeable portion of the SOV…" a cryptocurrency he claims is…"designed not to put a burden on government finances…(and which) funds itself…"
Paul also stated that he intends the private-public SOV venture to decrease his country's dependence on its lone relationship with one corresponding foreign bank.
Venezuela has also issued a national cryptocurrency designed to increase the country's sovereignty as it has come under increased economic pressure due, in part, to sanctions imposed upon it by the US.
Critics have panned the venture, however, as yet another example of fiscal irresponsibility and "money-printing" in inflationary Venezuela, and the IMF has advised the Marshall Islands to "be cautious" about issuing a cryptocurrency, which can be used for money laundering and criminal and terrorist finance.
According to the IMF:
"Directors encouraged the authorities (in the Marshall Islands) to be cautious about issuing a decentralized digital currency as a second legal tender and carefully consider the macroeconomic and financial stability risks. They noted that the potential benefits from revenue gains could be considerably smaller than the potential costs arising from economic, reputational, and governance risks. Directors commended the progress made in addressing correspondent banking relations risks."
Sponsored Links by DQ Promote