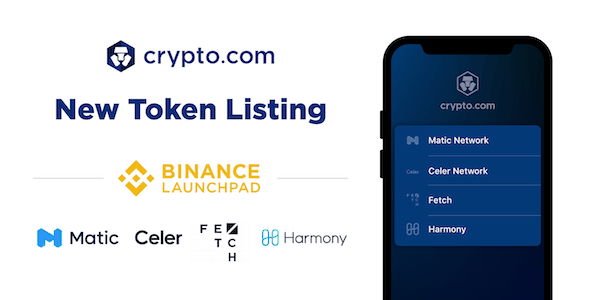 Hong Kong-based cryptocurrency platform Crypto.com announced on Thursday it has listed four Binance Launchpad Tokens to its Wallet & Card App. The tokens are Matic Network's MATIC, Celer Network's CELR, Fetch.AI's FET, and Harmony's ONE.
According to Crypto.com, the four tokens join a growing list of 31 cryptocurrencies and stablecoins on the Crypto.com platform, such as Bitcoin (BTC), ether (ETH), Litecoin (LTC), XRP, TrueUSD (TUSD), PAXOS (PAX), and its own MCO and CRO Tokens. Crypto.com stated:
"With MATIC, CELR, FET, and ONE added to the Crypto.com Wallet & Card App, users can now purchase these tokens at true cost with no fees – credit card and bank transfer both supported. As Crypto.com also offers the MCO Visa Card, this adds additional utility to the newly listed tokens as users can easily convert cryptocurrencies into fiat currencies and spend at over 40 million merchants globally."
Each of the tokens is described below:
Matic Network: provides scalable, secure and instant Ethereum transactions using Plasma side chains and a Proof-of-Stake network. It aims to solve the problems faced by the blockchain ecosystem through building a decentralized platform using an adapted version of Plasma framework, which provides for fast and low-cost transactions with finality on a main chain.
Celer Network: An Internet-scale, trust-free, and privacy-preserving platform where users can quickly build, operate, and use highly scalable dApps. The platform is a networked system running on top of existing and future blockchains. It provides unprecedented performance and flexibility through innovation in off-chain scaling techniques and incentive-aligned crypto economics.
Fetch.AI: A decentralized digital representation of the real world in which autonomous software agents perform useful economic work. The agents may perform tasks, such as delivering data or providing services and are rewarded with a digital currency for their efforts — the Fetch.AI Token (FET).
Harmony: Claims to be a fast and secure blockchain with key innovations in state sharding and peer-to-peer networking. Its sharding uses secure proof-of-stake and decentralized randomness, and its networking achieves optimal cross-shared routing and fast block propagation.
Sponsored Links by DQ Promote