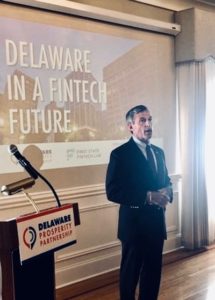 The state of Deleware is burnishing its Fintech credibility with a new report.
Produced by the Delaware Prosperity Partnership, the First State Fintech Lab, and the University of Delaware's Institute for Public Administration, the document tells you why Delaware is the place to be when you set up your innovative Fintech firm.
Delaware has always been home to many financial services firms. Its corporation friendly legal structure makes it a state of choice when setting up a business. The report notes that currently, Delaware is home to nearly 48,000 jobs in the financial services sector, with about 37,000 jobs in core financial services industries.
Today, Delaware stands at an inflection point, explains the report. Finance is changing and so must they. While Delaware may have some unique competitive advantages in financial services growth is not guaranteed.
In a release, the group who put the report together said that defining the Fintech sector can be complicated.
John Taylor, Director of Economic Research at the Delaware Prosperity Partnership, stated:
"Some are referring to Fintech as a standalone new industry. Certainly, the term is relatively new, but a closer look suggests that all financial services companies are becoming Fintech companies, including the well-established incumbents as well as early-stage startups."
The digitization of finance is inevitable. While the agile startups may be driving the discussion, eventually the old finance crew will be dragged along. Either that or they will be forgotten.
Delaware, according to the report, has the highest relative concentration of financial services jobs of any U.S. state.
It is also a hotbed of Fintech patents with nearly 200 filed since 2009 – first in the US on a per capita basis.
Finance is vitally important for the economy as it accounts for more than one-fifth of the state's GDP, the largest contribution of any sector.
Delaware made global news by being the first state to establish a blockchain initiative in 2016, making changes to statutes and beginning pilot programs to test various applications of the technology.
Taylor says one should think of Fintech as the next wave of innovation in banking:
"Advances in machine learning and data analytics are enabling new ways for consumers to access financial services."
So can Delaware differentiate itself from hotbeds of innovation like the Bay Area or Silicon Alley? That's not an easy task but the document does a great job of emphasizing the benefits of being located in Delaware.
The report is embedded below.
---
Sponsored