The Senate Banking Committee held a hearing today where David Marcus, Head of Facebook's cryptocurrency project Libra, took the stand to explain and defend the company's intent for their payments and blockchain ecosystem.
While some US Senators are keen on supporting Fintech innovation in the fast-emerging blockchain sector, in the end, it was Facebook's past transgressions, regarding data abuse and misleading statements, that have clearly undermined confidence in the global social network and its crypto aspirations.
Senator Mike Crapo, Chairman of the Banking Committee, opened up the proceeding with circumspect support.
"Despite the uncertainties, Facebook's stated goals for the payments systems are commendable," said Crapo.
If Libra was done correctly, the crypto could in fact help address intrinsic shortcomings with the global population of underbanked consumers said the politician. Yet Senator Crapo, who supports innovation, struggled to find ways to directly advocate on behalf of Facebook and Libra.
Ranking Member Senator Sherrod Brown pounded Facebook and Libra in a blistering, opening statement.
Brown stated:
"Facebook might not intend to be dangerous – but they certainly don't respect the power of the technologies they are playing with. Like a toddler who has gotten his hands on a book of matches, Facebook has burned down the house over and over, and called every arson a learning experience," said the Senator. "Facebook has two competing missions – make the world more open and connected, and make a lot of money. And as Facebook attempts to serve both of those missions, they wreak havoc on the rest of us."
Senator Brown said that Facebook does all it can to manipulate its users and this manipulation has led to "horrifying results."
"Facebook has demonstrated, through scandal after scandal, that it does not deserve our trust, and that it should be treated like the profit-seeking corporation it is, just like any other company … Now Facebook is asking people to trust them with their hard-earned paychecks. It takes a breathtaking amount of arrogance to look at that track record and think, you know what we really ought to do next? Let's run our own bank and our own for-profit version of the Federal Reserve for the world."
Marcus, in his opening statement, sought to assuage the profound fears that Facebook's past transgressions will not infiltrate their crypto vision.
"We approach all of these efforts with humility and a commitment to engage with experts in law, finance, economics, security, compliance, and blockchain technology, as well as with the regulators and policymakers who oversee the stability and security of our financial systems. But we also know how important it is that we begin this journey now. Since publishing our white paper on Libra, I have heard from people all around the world, excited by the possibilities that Libra offers. The status quo is not working for many; it is too expensive for people around the world to use and transfer their money. We believe Libra can offer a more efficient, low-cost, and secure alternative."
Marcus attempted to assure the audience that Libra and the affiliated wallet Calibra will adhere to global standards of regulation, including the stringent US money laundering and know your customer laws. By seeking to work with both the legislators and regulators, Libra hopes to create an acceptance of its stablecoin but support from both Republicans and Democrats was tepid at best.
While Senator Crapo said he believes it is important that the US lead in this sector and support financial innovation that was about as far as the Senator would go in support of Libra.
Senator Toomey expressed his opinion that the Libra blockchain could be a benefit in financial services; the crypto could mitigate transaction costs. Toomey added that it was "wildly premature to strangle" this innovation now. But he also asked Marcus if it was their intent to ever share data without consent – problem from Facebook's past.
Toomey also asked about the income generated from the basket of assets that will be the basis of Libra.
"At some point [this income] can become very substantial .. pay out dividends to the founders," Toomey said. For a non-profit operation it sounds like it will generate a profit.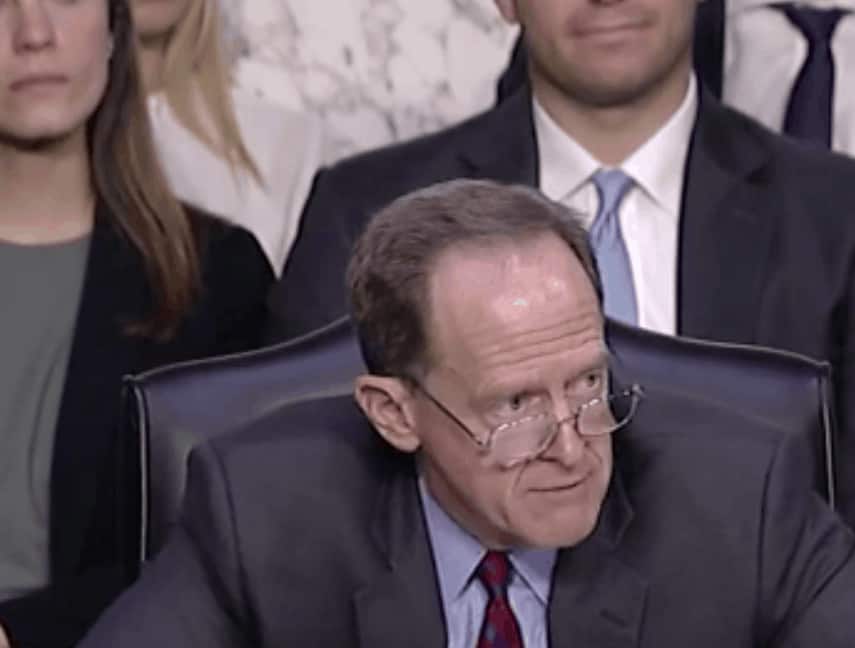 "Income from basket of assets? Which generates a revenue stream? At some point that can become very substantial. Pay out dividends to founders."
Marcus struggled to answer the question saying the interest earned will go to paying the operating cost and potentially pay some return to those who invest.
Senator Tillis expressed his belief that an ecosystem like Libra is best launched by a regulated US firm as the US is most likely to set a gold standard of regulation.
Senator Warner said he was all for innovation but he shares a lot of the concerns of his colleagues.
"… catch and kill. Facebook has used this approach very effectively," to remain competitive said Warner. Libra is another manifestation of the catch and kill strategy utilized by Facebook, in his opinion.
Senator Kennedy said ironically, "Facebook now wants to control the money supply – what could go wrong?" Once again Facebook's past haunted the Libra pitch.
"I don't trust you guys" … instead of cleaning up your house you are launching another business model. You say you don't want to be sharing data but … how do we know this isn't going to change based upon your track record?"
Senator Schatz made the statement that he is hearing that a lot of the consortium members have questions too, similar to what the Banking Committee members are asking.  "They just do not want to be left out."
Move Fast and Break Things. Just Not in Financial Services
Senator Menendez told Marcus he had only 5 minutes to speak which is not enough time to share all of the things that Facebook has broken.
"Trust us? Trust is something you earn and trust is not something Facebook has earned," said Menendez.
Marcus assured the Senator they are not moving fast with Libra.
Senator Brown pretty much summed up the entire hearing.
"The distrust of Facebook is pretty universal … I wish we could trust Facebook, it is pretty clear there is nobody on this committee that does," said Senator Brown.
While the questions were pointed, expect Marcus to have a tougher go at the House Financial Services Committee hearing tomorrow. Chairwoman Maxine Waters has demanded a moratorium on Libra.

In the end, Facebook will be hard-pressed to find support in the political corners where they should expect it. Past actions will always speak louder than words, in they eyes of the elected officials.

Sponsored Links by DQ Promote