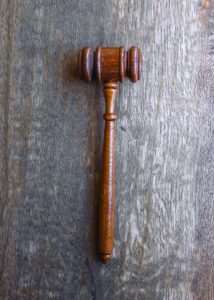 Vanbex, a Vancouver-based "blockchain consultancy" now contending with a formal fraud investigation and civil forfeiture actions, is now contending with a civil lawsuit brought by a former employee.
According to Business Vancouver, lawyer Blair Hogg filed documents naming Vanbex Group Group, Inc., Vanbex Labs, Inc.  Vanbex Ventures, Inc., and company founders Kevin Hobbs and Lisa Cheng as defendants in a suit registered at the BC Supreme Court on June 14.
Hogg is suing Hobbs and Cheng alleging they misrepresented company prospects, intentionally inflicted emotional damage on him, "constructively-dismissed" him and then defamed him in Vancouver business circles.
Hoggs says he was brought on at Vanbex in December 2017 as vice-president and general counsel and was expected to manage legal affairs, finances, and human resources.
Hogg says that agreed-upon remuneration was $200,000 a year in as well as stock options that Hobbs and Cheng allegedly claimed were worth a minimum of $2 million.
Hogg's filing also states that:
"Mr. Hobbs and Ms. Cheng also made representations..that the Companies were in serious discussions to build blockchain products for Anheuser Busch('Budweiser'), IBM, Coca-Cola and Mind Geek, (and told Hoggs) during employment negotitations that IBM considered [Vanbex] to be the 'Uber' of blockchain and wanted [to] partner with [Vanbex] to build a suite of blockchain products."
Hogg goes on to allege that these claims were false and designed, "to induce him to end the Employment Agreement, which he did, to his detriment."
Hogg claims he went on to encounter "a toxic work environment" at Vanbex and that Hobbs and Cheng were, "confrontational and abusive towards the Staff."
Hogg also claims that he watched 44 employees quit during the 11 months he worked there, and that he was "constructively dismissed" when conditions made it "legally, morally and professionally impossible" to continue working at Vanbex.
Vanbex has also been targeted by a lawsuit launched by the British Colombia Civil Forfeiture Office alleging that Vanbex, Lisa Cheng and Kevin Hobbs conducted a fraudulent securities offering in the form of a $30 million USD ICO.
Vanbex conducted an ICO sale of "FUEL" tokens in October 2017 and raised an estimated $33,730,000 USD by selling the tokens to the public for ethers, tokens native to the popular blockchain network Ethereum.
At the time, ethers were trading for around $300 USD, but along with many other crypto tokens in the fall of 2017, the price of ethers more than quadrupled in the following three months, and ethers briefly traded for $1377 USD in January 2018.
If Vanbex cashed out at that time, it could have turned a profit of more than $100 million USD.
Like other companies that raised money by ICO in 2017, Vanbex characterized FUEL tokens as "utility tokens" people could eventually use on a dedicated blockchain the company was building.
Another civil lawsuit against Vanbex states that the company never built that blockchain, but the Vanbex website indicates that a platform called Rocket is now live.
Cheng and Hobbs have reportedly had sports cars and a tony townhouse seized by the Civil Forfeiture Office and, in April of this year, the Canada Revenue Agency was also reportedly pursuing an investigation into Vanbex.
The British Columbia Office of Civil Forfeiture also claims that Hobbs used "misappropriated funds" from the Vanbex ICO raise to buy a Bay Street apartment in Toronto for $3.74 million; to purchase a three-year lease for a $500,000 2018 Lamborghini and, "to gamble…nearly $1.82 million between late 2016 and March 2018 at B.C. casinos until he was put on a watch list and denied from buying-in at any casino with un-sourced cash or chips. Hobbs also gambled internationally, according to the court filings."
The Vancouver Sun also claims that Hobbs has a criminal history.
In 2005, he was reportedly caught in a New York hotel room in possession of 45 pounds of marijuana and $178,000 USD in cash.
As well:
"In 2008, Hobbs was convicted in Nova Scotia of possession of property obtained by crime and money laundering, a result of being found with $32,000 in a suitcase before boarding a flight to Vancouver…(and was later) convicted in Nova Scotia for drug trafficking and unlawfully producing marijuana. He received a 30-month sentence."
Hogg has also claimed in his suit that Hobbs slandered him and hindered his employment prospects at a poker game at the Vancouver Club in February, where he allegedly told fellow players that Hogg "messed up" Vanbex's legal affairs.
Vanbex spends the majority of its "Vanbex Corporate Update: June 25, 2019" contending that the case by the Office of Civil Forfeiture is based on unreliable testimony from an ex-contractor.
---
Sponsored Links by DQ Promote