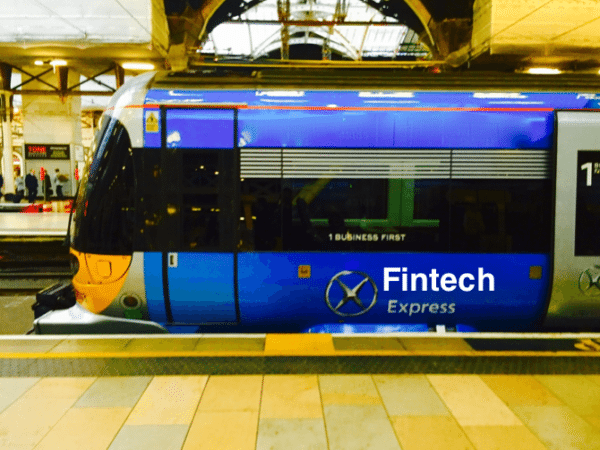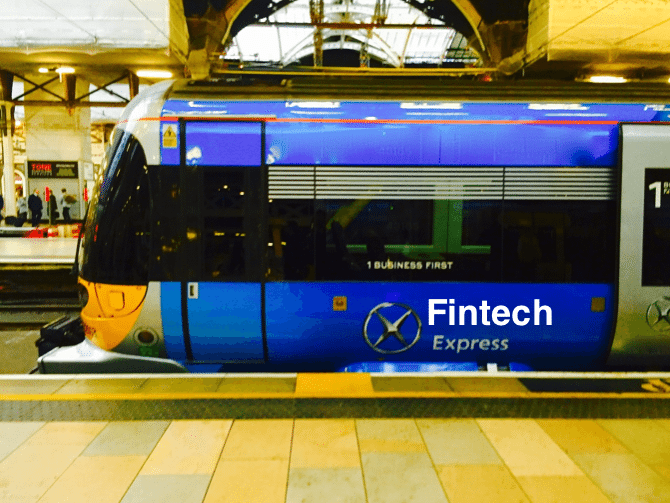 Global Fintech funding declined during the first half of 2019, driven by a drop in China. But while China dipped, Fintech investment jumped in other countries led by the US and the UK, according to a report from Accenture (NYSE: ACN).
Yesterday, Crowdfund Insider reported on CBInsights Fintech numbers for H1 2019. Today, we have Accenture's spin on Fintech funding and there is a fair amount of overlap – as Accenture bases their analysis off of CBinsight data.
According to the report, China's decline was due to an abundance of success in 2018. Ant Financial's huge $14 billion funding round in early 2018 has skewed the numbers. If you pull Ant Financial's numbers out, on a global basis, Fintech funding looks pretty robust.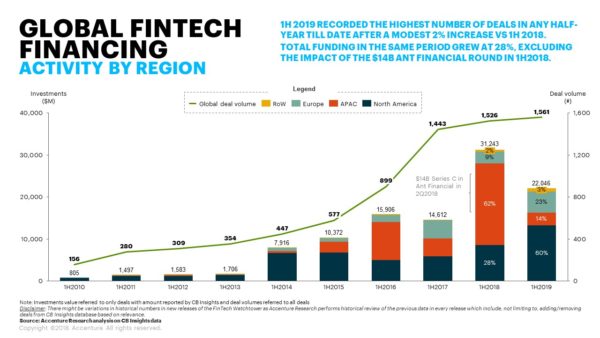 Accenture states that the total value of Fintech deals globally in the six months ended June 30 was $22 billion, compared with $31.2 billion during the same period of 2018. This represents a decline of 29%. Minus Ant Financial, global Fintech funding in the first six months would have risen by 28% indicating significant growth.
In the US, deals jumped by 60% to $12.7 billion. Deal flow remained flat, 564 v. 563, as deals raised more money.
The report states that lending startups led the sector capturing 29% of the funding followed by payments at 25%.
The single largest deal was the $1 billion for consumer fintech Figure Technologies which secured a credit facility in May.
The UK continues to rock the Fintech sector as investment nearly doubled to $2.6 billion. The number of deals increased by 25% to 263. As indicated in the CBInsights report, digital banking is the new shiny with names like Monzo and Starling raising large funding rounds ($144 million and $211 million respectively). I would add stealth-bank Transferwise to that list but Accenture pegs this Fintech in the money transfer space as it raised $292 million in May. WorldRemit was on the list too having closed on a $175 million funding round.
Julian Skan, a senior MD in Accenture's Financial Services practice, had this to say:
"There's been a lot of interest and demand from consumers for new Fintech propositions, particularly in the U.K. and elsewhere in Europe, which helps explain the big jump in investments there. Fundraising is also moving to support the scaling up of challenger and collaborative Fintech, which will cause lumpiness in some rounds as we get to the business end of the investment cycle where investors look for returns based on a sustainable bottom line, rather than another buyer. However, the question is: How long can that last? Fundraising is likely to reach a plateau soon and will most likely dip going forward."
The dip is coming the question is when?
Other markets of note include:
German Fintechs more than doubled funding in the first half of 2019, to $829 million from $406 million in the same period last year. Digital bank N26 led with $300 million raised in January. The Insurtech Wefox raised $125 million in March.
Fundking in Sweden did 4X+ with $573 million
Fintechs in France raised $423 million in the first half of 2019, 48% more than year prior
Asian Fintech hub Singapore is having a strong year as investment quadrupled to $453 million
Scrappy Australie did well too as deals tripled to $401 million
China and India experienced volume declines of 49% and 21%, respectively.
German #Fintechs more than doubled funding in the first half of 2019, to $829 million from $406 million in the same period last year
Piyush Singh, MD of Accenture's Financial Services practice in Asia-Pacific and Africa, said the activity was a good indicator of confidence in the Fintech sector:
"Startups and the solutions they offer are maturing, which bodes well for traditional institutions partnering with fintechs and for innovation in the financial services industry as a whole."
So when does the Fintech Freight Train come to a halt?
There are plenty of catalysts where we can point a finger of blame. Unrest in Hong Kong, a trade war, looming recession, Brexit, negative interest rates, the list is quite long. But even while Fintech funding may rise and fall, the digitization of finance is the future. Of that, we can be certain.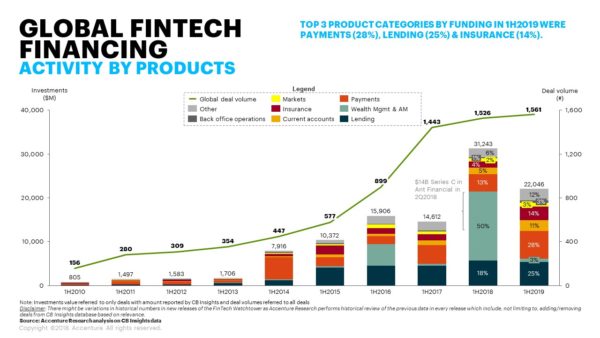 ---
Report: Huge Jump in #Fintech Funding in UK & US While China Declines Following Big 2018

Sponsored Links by DQ Promote