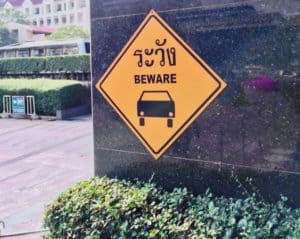 The Thailand Securities and Exchange Commission (SEC) is warning the public there to be wary of crypto investment schemes soliciting investments from offshore, The Bangkok Post reports.
The latest warning named one company in particular, FX Trading Corporation, although "several other companies and websites" are also involved in the fraud, said Police Lieutenant Colonel Woranan Silam.
None of the firms are authorized to provide trading of digital currencies to Thai citizens, contrary to the companies' claims, he added.
Only three companies are currently authorized by the SEC in Thailand "to operate digital assets businesses," Silam said.
Those companies are:
Bitcoin Co (www.bx.in.th)
Bitkub Online Co (www.bitkub.co.th)
Satang Corporation Co (www.satang.pr)
As well, Coins TH Co (www.coins.co.th) is the only authorizeed digital currency broker or dealer, Silam said
Last fall, six firms were seeking licences to operate as digital asset exchanges in Thailand. Those were:
Bitcoin Co (bx.in.th)
Bitkub Online Co Ltd (bitkub.com)
Cash2Coins Co Ltd (cash2coins.com) -status unknown
Satang Corporation Co Ltd (tdax.com)
CoinAsset Co Ltd (coinasset.co.th) –status unknown
Southeast Asia Digital Exchange Co Ltd (seadex.io) -status unknown
The two firms seeking permission to deal digital assets at that time were Coins TH Co (coins.co.th) and Digital Coin Co Ltd (thaiwm.com).

Like its American counterpart, the Thai SEC cautions investors to be aware that pursuing their interests oversees in the event that business goes wrong depends on the cooperation of local law enforcement.

Even in the event of cooperation, Silam said, an investigation can take years.

Already, across the globe, there are numerous cases of crypto investment ventures gone awry, and settlements, when they do occur, may recover only a fraction of the funds originally laid out once legal and private forensic fees are paid.

Sponsored Links by DQ Promote