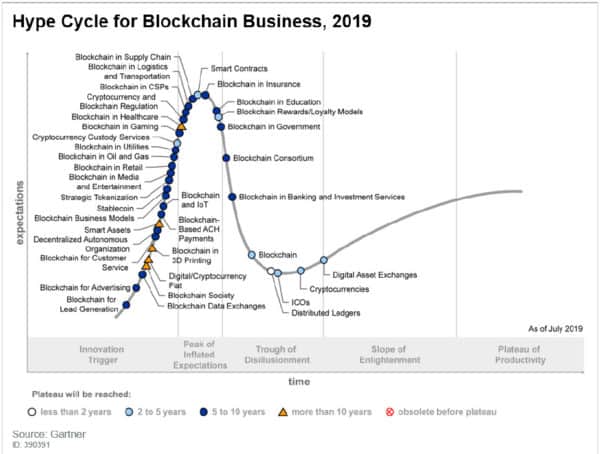 Connecticut-based consulting services and research firm Gartner said that distributed ledger technology (DLT) will transform how most businesses operate within the next 10 years.
Currently, however, blockchain-based systems are in their early stages of development and it could take several years before the technology has matured, according to Gartner's "Hype Cycle" report, published on September 12, 2019.
Distinguished research vice president at Gartner David Furlonger noted:
"Even though they are still uncertain of the impact blockchain will have on their businesses, 60% of chief information officers (CIOs) in the Gartner 2019 CIO Agenda Survey said that they expected some level of adoption of blockchain technologies in the next three years." 
Furlonger, who co-leads Gartner's blockchain Centre of Excellence, pointed out that the existing digital infrastructure of companies and the lack of clarity regarding blockchain regulations are preventing CIOs from "getting full value" from advanced DLT-enabled systems.
The research firm's Hype Cycle report evaluated the current state of blockchain adoption and development in the banking and investment services industry and the online gaming ecosystem.
According to the report, only 7.6% of the company's CIO survey respondents said that blockchain is a "game-changing technology." Approximately 18% of banking and investment services CIOs noted they have either adopted or are planning to use blockchain tech for certain business procedures within the next year, and for an additional 15% of processes within two years.
Furlonger believes blockchain development will be focused mainly on the development of private or permissioned ledgers.
He also mentioned that his firm expects continued developments in the digital tokens industry. However, he believes there's a lot of work that needs to be completed before blockchain-based platforms reach mainstream adoption. For example, the emerging DLT industry needs proper standards, appropriate regulatory guidelines and relevant organization structures. 
Research vice president at Gartner Christophe Uzureau said: 
"High user volumes and rapid innovation make the gaming sector a testing ground for innovative application of blockchain. It is the perfect place to monitor how users push the adaptability of the most critical components of blockchain: decentralization and tokenization."
Some of the potential use cases for blockchain may include developing applications for auditing, "track and trace" services, inventory management, and counterfeit prevention, the report suggested.

DLT may also be used to "transform or augment" loyalty programs, according to Gartner's researchers.

The market research report also mentioned that blockchain tech may be combined with other leading technologies such as artificial intelligence (AI) and the internet of things (IoT). 

Gartner's report concluded by noting that blockchain has the potential to "change retail business models forever, impacting both data and monetary flows and avoiding centralization of market power."

Sponsored Links by DQ Promote