Changing Zhao (CZ), CEO of Binance, one of the world's largest cryptocurrency trading platforms, has confirmed on Twitter that the platform will begin accepting money transfers via Chinese payment giants WeChat and Alipay.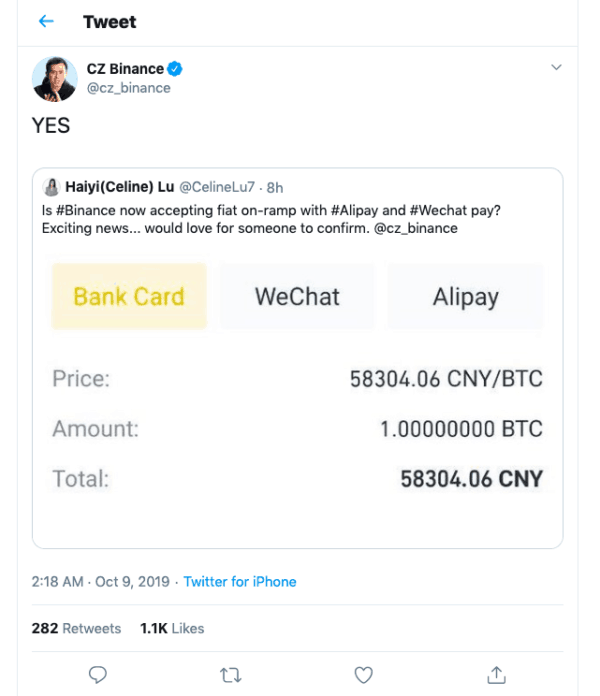 The news is very significant because China has been pursuing a progressively more comprehensive official ban on cryptocurrency trading and promotion since late 2016.
Crypto trading has persisted in China despite the ban, and the country's business is coveted by crypto exchanges and wallet app providers across the world.
Chinese crypto traders have reportedly been using VPNs (virtual private networks- servers registered in a favourable region) and OTC (over-the-counter) trading desks to continue their trading activities.
The Block, which broke the story, states that, until now, "Huobi and OKEx were the main exchanges that facilitated Chinese Yuan (CNY) to BTC/USDT conversions disguised behind a P2P (peer-to-peer) OTC desk."
A spokesperson qualified Binance's integration of Alipay and WeChat to the outlet:
"Technically, Binance as a P2P platform itself is NOT integrated with WeChat/Alipay payment, but the vendors or users on the platform accept WeChat/Alipay transaction for crypto trading."
The spokesperson further claimed:
"Binance only provides the onramp for OTC trading by building an intermediary platform on which both the merchants and the users trade freely."
Alipay has officially denied that it is allowing its services to be used for purchases of cryptocurrencies:
"Alipay closely monitors over-the counter (OTC) transactions to identify irregular behavior and ensure compliance with relevant regulations. If any transactions are identified as being related to bitcoin or other virtual currencies, we immediately stop the relevant payment services."
In the summer of 2018, Alipay announced (in the words of an automated translation), that it planned to, "resolutely retreat (from) merchants involved in virtual currency transactions…(and) resolutely take measures to…permanently limit," cryptocurrency trading from the personal accounts of its 600 million users.
Alipay said it intended to accomplish this through, "close monitoring of individuals and websites suspected of trading in crypto."
A Twitter user called "Crypto Krillin" responded to the CZ tweet confirming WeChat/ Alipay integration by stating that WeChat and Alipay transactions are under surveillance:
"Binance is still blocked in China so only users with specific VPNs can actually open Binance , and WeChat/Alipay transactions are being monitored… Good news but you make it looks like the Chinese retail flood gates are about to open, this is not the case at all."
Changpeng Zhao became a billionaire in less than a year after he launched Binance, thanks, in part, to fortuitous timing in the launch of Binance, which coincided with the parabolic bull market of 2017.
Block researcher Larry Cermak has provided evidence showing that volumes at crypto exchanges across the globe have been "tanking" in recent months, and many exchanges are looking for ways to restore revenues, including listing new coins.
Sponsored Links by DQ Promote