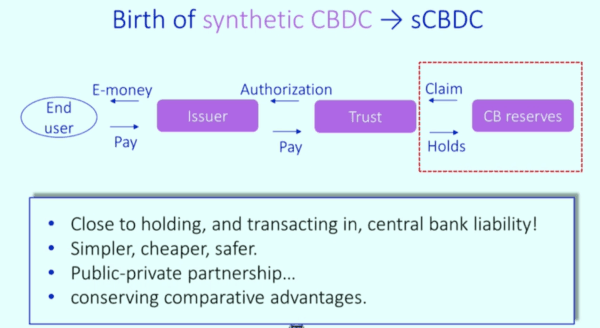 In a presentation entitled "The Future of Money: The Impact of Digitization, including "social coins" on Currency, Payments and Markets, Tommaso Mancini-Griffoli, Deputy Division Chief in the Monetary and Capital Markets Department from the IMF pitched the concept of a "synthetic CBDC" (Central Bank Digital Currency).
The concept of a CBDC has been around for some time. In 2016, the Bank of England discussed the concept in a working paper published on the "Macroeconomics of Central Bank Issued Digital Currencies."
More recently, the current Bank of England Governor Mark Carney proposed a global digital currency or "Synthetic Hegemonic Currency."
Today, Mancini-Griffoli is pitching a "synthetic CBDC" or sCBDC – a form of public-private partnership that bridges the gap between companies seeking to benefit from a digital currency and a central bank that seeks to maintain control of monetary policy.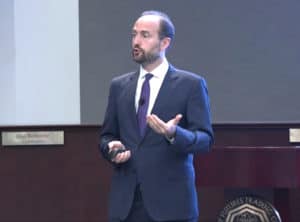 The concept is of heightened importance due to corporations like Facebook seeking to launch its own non-sovereign global currency Libra. Facebook is recognizing the benefits of creating a low friction, low-cost digital form of payment (stablecoin) which can be utilized regardless of a geographic location.

Most central banks have been slow to embrace the idea of a CBDC with some currently experimenting with the concept.

Of note, is the fact that China has jumped to the head of the queue as the government is expected to launch its own CBDC within weeks (and not years). China's ambition is to replace the dollar as the reserve currency of preference for the world.

Mancini-Griffoli approach has merit and is something that policymakers should review. Government officials need to recognize the benefits of updating existing payments and remittance systems while being sensitive to the impact on traditional banks (such as the outflow of deposits). Perhaps, the sCBDC is the missing piece of the crypto-puzzle.

Sponsored Links by DQ Promote