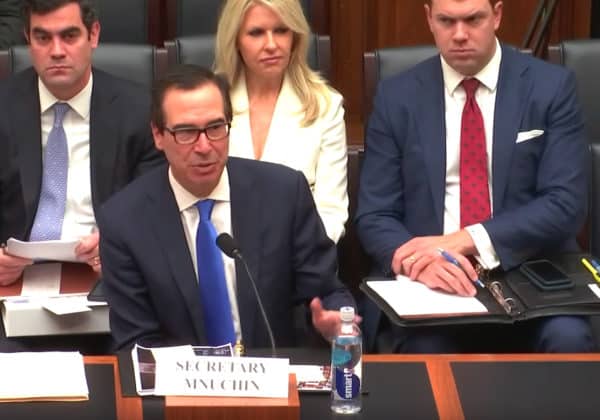 US Secretary of the Treasury Steve Mnuchin told members of the US House Financial Services Committee Thursday that both he and Federal Reserve Chairman Jerome Powell feel there is "no need" for the US to develop a digital currency in the near term. Currently, multiple central banks are reviewing "central bank digital currencies" or CBDCs with some, like France, preparing to test the concept.
"Chair Powell and I have discussed this. We both agree that in the near future, in the next five years, we see no need for the Fed to issue a digital currency," Mnuchin said.
The House Financial Services Committee has oversight of the financial services industry in the US and is currently Chaired by Representative Maxine Waters.
According to Bloomberg, Mnuchin made the comments after he was asked to address Libra, Facebook's proposed private global cryptocurrency network.
Mnuchin told Andrew Ross Sorkin at CNBC's Squawk Box October 14th that prominent initial backers of Libra, including PayPal, Visa and Mastercard, probably withdrew from Libra's Association because the plan was, "not ready….(and) not up to par."
The withdrawals may also have been inspired by letters from US Senators Sherrod Brown and Brian Schatz warning Libra Association companies that they would face scrutiny of their own businesses if risks in Libra were not meaningfully addressed.
> This is the type of letter executives at @stripe, @Mastercard and @visa (former @Libra_ members) have received.
> Many executives may have chosen not to experiment and innovate in order to avoid regulatory pressure!Sad!
> America can do better!
> Source: https://t.co/M36bkEKJU9 pic.twitter.com/kF3AXf9Xvd

— Gabor Gurbacs (@gaborgurbacs) October 12, 2019
The letters stated that Facebook, "has not provided a clear plan for how it will prevent Libra from preventing criminal and terrorist financing, destabilizing the global financial system, interfering with monetary policy, or exposing consumers to risks…"
Mnuchin's recent comments regarding Libra were more precise.
"I'm fine if Facebook wants to create a digital currency, but they need to be fully compliant" with the Bank Secrecy Act and anti-money laundering prohibitions, he said. "In no way can this be used for terrorist financing."
Bloomberg writes that Fed Chairman Powell sent a letter to Representative French Hill of Arkansas in November stating that the Federal Reserve would have to assure that any federal digital currency system is resilient against hacks, is transparent and does not conflict with monetary policy and financial stability interests.
Hill had reportedly written to Powell in September asking about the national security implications of cryptocurrencies and possible useful applications.
Powell has said the matter is being considered ongoingly at the Fed:
"We are carefully monitoring the activities of other central banks to identify potential benefits that may be relevant in the U.S. context."
Secretary Steven Mnuchin's prepared testimony is available below.
---
Steven T. Mnuchin hhrg-116-ba00-wstate-mnuchins-20191205

---
Sponsored Links by DQ Promote