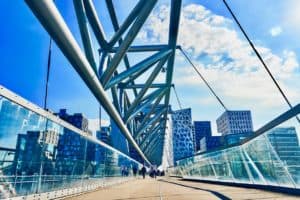 Norway-based DNB, the European nation's largest bank, is reportedly expanding its account aggregation tool. The bank will be adding the option of making account-to-account payments from any bank supported by its mobile banking app.
DNB first launched its account aggregation tool in October 2019 using proprietary technology from Nordic API Gateway, which is a spin-off from PFM outfit Spiir in which DNB holds equity.
Rune Mai, CEO and founder at Nordic API Gateway, says that the launch of the new payment initiation service is a "next-level" Open Banking development. He added that DNB has become "a financial institution trailblazer both by aggregating data from all Norwegian banks and by empowering customers to pay bills and transfer money between non-DNB accounts."
Ingjerd Blekeli Spiten, group EVP retail banking at DNB, noted that the initiative will help DNB in  becoming the preferred mobile banking service provider for the country's residents.
Spiten added:
"This is an important step in the direction of becoming the mobile bank for all Norwegians. We're giving our customers a huge flexibility as they're now able to make payments and transfers between their own accounts across several different banks."
As previously reported, DNB's mobile-based app will let the institution's clients and other users gain access to all their personal and business accounts in Norway via Nordic API Gateway's account information service.
Kristian Næss Fladset, executive VP and head of open banking at DNB, had noted (in October 2019): 
"With Nordic API Gateway, we're taking full advantage of the opportunities [the second payment directive] PSD2 creates. It's a unique opportunity to aggregate account information from other players to give our customers a full financial overview of our new mobile bank."
Fladset, a board member at Nordic API Gateway, had mentioned that the new feature gives the bank a clear chance of owning the relationship with its clients regardless of how many banks they might be working with. He also said that this was a key step in the direction of becoming the mobile bank for all of the country's residents.