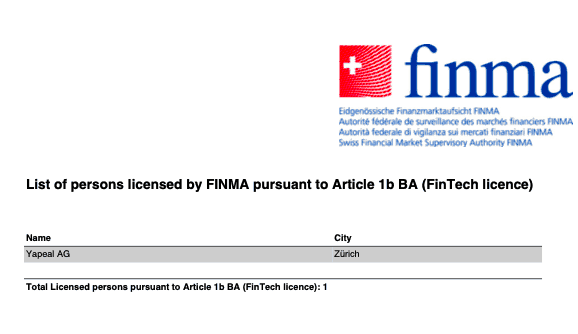 Yapeal, an aspiring digital bank based in Zurich, has received the very first Fintech license in Switzerland.
In 2019, the Swiss Parliament introduced the Fintech license enforced by the Financial Market Supervisory Authority (FINMA). The requirements for Fintech companies are based on the established auditing of banks and securities dealers, but the audit is less extensive and the reporting process simpler, while focusing on the risks specific to Fintech business models.
Yapeal provides a completely digital banking service including as full Swiss current account, debit/credit cards, Forex, payments/transfers, and more.
Andy Waar , Chief Marketing Officer at  Yapeal, commented on receipt of the Fintech License,
"That was extraordinary, strong teamwork, special thanks to Enrico, who managed this demanding task very professionally and did not let anything go with tight reins. It is an incredibly satisfying feeling to see how the initially seemingly loose puzzle pieces now fit together almost smoothly and now everything materializes – this shows again how strongly our team has grown together and is restlessly working towards the same goal." [translated]
While other Swiss banking entities offer a digital service, Yapeal is the first to be completely digital and without piggy-backing on another operating bank. Services have not yet launched but expectations are for the digital bank to open its virtual doors soon.