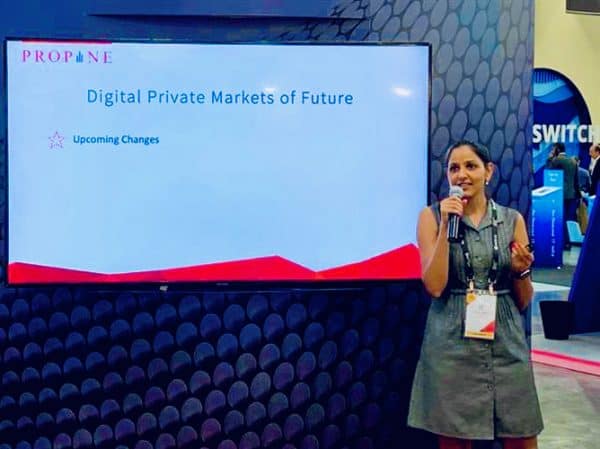 Propine Seeks to Power the Future of Digital Assets
Singapore has long been a leader in Fintech. Innovative financial services have benefited from a supportive regulatory regime and an entrepreneurial population. Singapore is also a highly business-friendly, low tax jurisdiction and has emerged as a leading financial center in Asia.
Therefore, it should come as no surprise that the advent of digital securities, assets managed via blockchain and smart contracts, is moving forward.
In November of 2019, Crowdfund Insider reported on Propine, a comprehensive securities services provider for digital securities. At that time, Propine had been accepted into the Monetary Authority of Singapore (MAS) Fintech Regulatory Sandbox – a high profile seal of approval by the public authorities.
Propine is the first independent digital asset custodian to be granted a Capital Markets Service Licence by MAS. Propine reports that it is ready to provide custodial and asset servicing solutions to both accredited and institutional investors offering an end-to-end solution for a Digital Security Offering.
Many Fintech observers accept a future of digital securities or security tokens. But change and transition take time, especially in a highly regulated industry. Scale is necessary to generate sustainability for platforms facilitating these services and there needs to be a pipeline of ventures looking to issue digital assets. Propine is well-positioned to be a conduit for digital securities.
Recently, Crowdfund Insider had the opportunity to catch up with Propine founder and CEO Tuhina Singh. She provided an update on platform progress and her expectations for the future. Our conversation is shared below.
---
When did you decide to launch Propine? What was the catalyst?
Tuhina Singh:  I decided to work on Propine full time in Nov 2017.
 Having traded crypto for my own personal account, been part of an ICO team and finally experience with an OTC broker for crypto, I learnt firsthand how the infrastructure for buy and sell sides work in this industry. I quickly realized that the whole story of institutional investors coming to crypto is not really going to fly, unless two critical things get in place. The first is a scalable and dependable infrastructure and secondly, the regulations. The market would need good regulated compliant players otherwise institutional investors would not touch this asset class.
I didn't find that solution being in place and that's how the idea of Propine was born.
You are a custody platform for digital securities focused on institutions – is that the extent of your solution? And how do you integrate with other platforms?
Tuhina Singh: Physical safe-keeping is the most basic function of custody. But in the digital securities world, managing corporate actions, comprehensive reporting, reconciliations are all critical for our clients. We also facilitate issuers in their issuance process and post-issuance administration.
 As for integration, we use API's. We can integrate with exchanges, trading hubs, wealth management platforms and anyone else within our ecosystem.

You participated in the MAS Fintech Sandbox. How helpful was that in developing your platform? How is your relationship with securities regulators today?
Tuhina Singh: We entered the Fintech Sandbox, on the eighth of November, 2019, and it was for a duration of nine months. We will graduate from the sandbox on seventh of August of this year.
The entire process of getting selected for the sandbox has been very educational for us.  They asked us very well thought out questions in terms of operations, security, services, legal documentation, liabilities that we incur on behalf of clients in the process of providing services. All those questions have had a positive impact on the entire solution making it fully compliant. Being in the sandbox has strengthened our solution and our reputation in the market as the leading custody solution for this digital securities space.
We have also been flexible enough to offer slightly different versions of our solution, to match the creativity of the market, while ensuring that we are being compliant.
MAS has been extremely supportive. We interact with two distinct teams – one is the team that shepherds us through the sandbox, and then there is the regulatory team that looks after the regulatory aspects.
Both teams have been very responsive and our experience has been excellent.
Is your platform utilizing a single iteration of blockchain or DLT? If so, which protocol(s) are you, leveraging?
Tuhina Singh: One of the salient features of our solution is that we are blockchain agnostic.
 So today, we support Bitcoin, Bitcoin Cash, Litecoin, Ripple, Ethereum, ERC 20 tokens and on the private blockchain side we support Corda. We will continue to add blockchains in response to market evolution.
One of the salient features of our solution is that we are #blockchain agnostic #DigitalAssets @Propineglobal Click to Tweet
Many people view the advent of digital securities is inevitable yet demand is slow to emerge. What type of demand are you seeing and what will it take for global utilization?
Tuhina Singh:: In terms of demand, we're seeing a decent number of innovators who are willing to explore it and be those first few participants, playing in the space, and this number is not very small.
We're seeing tremendous interest from a lot of institutions taking this very seriously. I would say, pretty much all large banks are exploring this option on how to integrate security tokens into their set of offerings.
There are certain industries that are seeing a higher interest in exploring than others. So I think media industry, fund management, real estate, collectibles – we're seeing quite a lot of interest from these industries.
 For the digital securities to really fly, I think there are three different aspects that need to be put in place:
First is that regulations need to be very clear. By now, most jurisdictions have already created a cohesive conversation around crypto. However, only a handful of countries including Singapore, have made it very clear as to how they will treat digital security tokens. We need more countries to come forward to clarify that. But I think it's going to be a much faster process going ahead, once you have some of these trailblazing countries, lay down a path. And I expect that to happen.

With regulatory clarity, the tax implications will also become very clear. Again, a second important aspect for institutions to play in this market.

The third thing is the presence of scalable, dependable and compliant infrastructure, offered by reliable, regulated participants. Now, this infrastructure is being built for a while now.
Pretty much all large banks are exploring this option on how to integrate security tokens into their set of offerings #DigitalAssets #Singapore @Propineglobal Click to Tweet

 
What do you envision as the biggest benefits of digital securities? Do you anticipate esoteric securities or non-traditional assets being securitized?
Tuhina Singh: I think the biggest benefit of digital securities is its ability to be customized for a very specific transaction, unlocking value in that transaction for both issuers and investors, in a cost-effective way, such that it was impossible to do so before.

As an issuer, you will no longer necessarily need to confine yourselves to issuing a simple debt or a simple convertible note or plain vanilla equity. You can actually create a structured product for that which will create the best value for both sides on the table.

Digital securities will obviously make transactions faster, better, cheaper. Aside from those, the transparency that it will bring can have a huge knock-on effect in improving certain markets. For example, the securitization market. The private securitization market is a huge opaque market which will unlock massive value due to the implementation of digital securities.

I think that pretty much everything is going to go the digital securities way. Over the next five to 10 years I think 100% of Wall Street is going to get tokenized. But apart from that a lot of securities which are non-traditional in nature, are going to find an expression in this market.

Fractional ownership of certain assets by retail, which wasn't a possibility before, is going to become possible. We are working with some exciting projects that will get unveiled over next few months, where a subjective and an objective value will be created or unlocked in a seamless manner. These will be examples of esoteric, new market segments being created.

Over the next five to 10 years I think 100% of Wall Street is going to get tokenized #DigitalAssets @Propineglobal Click to Tweet

Does Propine plan to offer services in other jurisdictions?

Tuhina Singh: Being in Singapore, and regulated by the Monetary Authority of Singapore, we can service issuers, and investors, on a global basis. 

 Any new releases or features planned for 2020?

Tuhina Singh: Yes, there's a lot of exciting stuff planned out for 2020. We will be offering a few completely new set of services along with several incremental features for services we already offer.

 

Sponsored