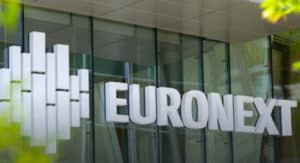 Euronext, a leading European securities exchange, will be acquiring 70% of the shares of VP Securities, a Danish post-trade utility service.
The shares will reportedly be acquired from existing owners, which include Denmark's reserve bank, Danske Bank, Nykredit, Nordea and Jyske Bank
Euronext's management confirmed that it will be extending its offer to VP Securities shareholders. The firm has recently been valued at €150 million.
Founded in 1980 and based in Copenhagen, VP Securities offers core CSD (central securities depository) services to national issuers, and various investor relations tools and sub-custody services.
Last year, VP Securities earned €57.1 million in revenue, while managing to deliver €16.8 million in EBITDA (earnings before interest, taxes, depreciation, and amortization).
The depository will serve as an important part of Euronext's post-trade investment strategy, along with Euronext VPS in Norway and Interbolsa in Portugal. These moves are part of the exchange's efforts to diversify its revenue sources during challenging economic conditions, resulting from the deadly Coronavirus (COVID-19) outbreak.
Euronext's acquisition further expands the exchange's interest in the Nordic region. In June 2019, Euronext acquired 97.8% of the total issued and outstanding share capital of Oslo Børs VPS (a company that offers coordinated marketplaces for listing and trading financial securities) and fully consolidated Oslo Børs VPS accounts.
Stéphane Boujnah, CEO at Euronext and chairman of the Managing Board of Euronext, remarked:
"The acquisition of VP Securities will position Euronext as a leading CSD operator in Europe, and as a leading player in the Nordic region. This reinforcement of our post-trade activities will allow Euronext to pursue the diversification of its topline."
Boujnah added:
"With about 200 talented employees, VP Securities will enable Euronext to further enhance its custody and settlement offering to deliver new and improved services for the benefit of the Danish real economy and European capital markets."
Sponsored Links by DQ Promote