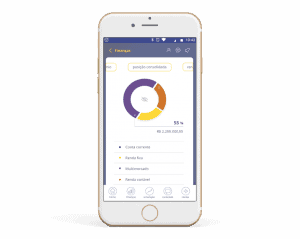 XP Investimentos XP Inc. (Nasdaq: XP), a company offering fixed income, equities, and private pension products, says it's reevaluating its business plans, following the introduction of new Open Banking guidelines in Brazil.
XP will reportedly be acquiring a majority stake in Fintech firm Fliper, an automated investment consolidation platform that allows users to manage their own finances by offering them "intelligent" management tools.
As mentioned in the release, the transaction has not yet been finalized as it's awaiting approval by the Brazil's reserve bank.
XP's stake in Fliper will help with providing clients the resources they need to manage their investments.
Fliper's founders (Felipe Bonani, Renan Georges and Walter Poladian) are still stakeholders in the FIntech firm. They'll also "maintain full independence" when it comes to managing the company's operations. However, they'll now also have the additional support of XP Inc.'s structure – which includes security, proprietary technology, back-office and marketing.
Established in 2017, Fliper aims to transform consumers' relationship with personal finance, by providing a single, complete view of their portfolio investments across different financial institutions.
As explained in a release, the Fliper solution enables automatic consolidation, and allows clients to compare and assess the performance of their investments.
Fliper reportedly has more than R$7 billion of mapped assets on its platform and is reportedly on track to reach 5 million customers in the coming years.
Gabriel Leal, XP's commercial director, stated:
"The solution will allow us to improve the experience of our clients, who in many cases have accounts with more than one financial institution. [We'd like] XP Inc. customers to consolidate all their investments and services within the group's platforms.." 
Bruno Constantino, the group's CFO, remarked:
"We believe the partnership further complements our ecosystem and has a great potential for long-term value creation,"
Renan Georges, founding partner of Fliper, noted:
"As we remain independent, our users can be assured that we will work in the same manner with all financial institutions, offering transparency and always providing the best services aligning with their interests."
XP offers financial advisory services to retail clients based in Brazil. It also serves high-net-worth individuals (HNWIs), foreign clients, and corporate and institutional investors.

XP provides access to more than 600 different investment products such as equity and fixed income securities, mutual and hedge funds, structured products, life insurance, pension plans, and real-estate investment funds (REITs).

Sponsored Links by DQ Promote