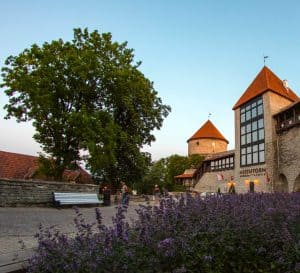 Estonia-based Fintech firm RAISON has acquired €125,000 in capital in order to add new features to its investment app.
Tallinn-headquartered RAISON is focused on creating a mobile application for investments in private firms. The Fintech company's management confirmed that the recent investment was made by an angel investor and that they've now raised around €1 million (to date). RAISON's first funding round was conducted back in 2018 through convertible notes (valued at about €700,000).
Established in 2017, the firm's RAISON app lets customers invest in major private businesses like Airbnb, SpaceX, and Robinhood from as low as €100. As first reported by EU Startups, the Fintech company has created one of the first legal structures or frameworks for digitizing shares of private firms.
The register of investors and the transactions performed with securities are settled through a blockchain-enabled platform. The company claims that using distributed ledger tech allows it to offer a good opportunity to invest with lower overall costs and it also simplifies the process.
This framework for digitizing company shares satisfies the requirements specified by EU legislation. RAISON will be offering services under a virtual currency service license. The company explained that the structure supports a regulated fund and an investment management firm that's reportedly been granted a license by the US Securities and Exchange Commission (SEC).
Alexander Zaitsev, co-founder and CEO at RAISON stated:
"Our startup is entering the stage of scaling: we have a unique product, more than 5,000 users — their number is growing by 40% every month — and a clear development strategy. We recently passed the benchmark: we sold the entire stock of SpaceX, the first company in our portfolio. By the end of November [2020,] we plan to launch a secondary market for tokenized shares — a new stage in the development of RAISON will begin with it. We continue to move within the framework of our mission — make investments available to clients with different capital."  
Andrey Berezin, co-founder and CFO at RAISON, remarked:
"Shares of private companies are usually not available to smaller investors: the minimum investment is €200,000. At the same time, private companies grow faster than public [ones] and bring more income to shareholders. RAISON gives an opportunity for everyone to invest in promising businesses."
Sponsored Links by DQ Promote