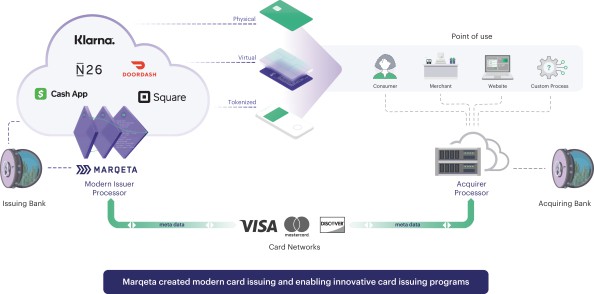 Marqeta has priced its share offering higher than originally anticipated. As has been widely reported, Marqeta will IPO at $27/share above the estimated $21 to $24 a share posted in the S-1 filing.
The higher share price will place a valuation on the Fintech at around $15 billion. In 2020, Marqeta raised private capital at a valuation of $4.3 billion a significant increase. Shares will trade on the Nasdaq under the ticker symbol "MQ."  According to the most recent S-1, Marqeta should raise around $1.4 billion in the securities offering.
Marqeta is one of a host of top Fintechs that have gone public or are planning to go public in 2021. The digitization of financial services has boomed in recent years – a trend that should continue for the foreseeable future.
Marqeta is a "modern card issuer" that streamlines a process that has existed for years.
The strength and durability of our Customer relationships are evidenced by our year-over-year net revenue growth of 103% for the year ended December 31, 2020, and our dollar-based net revenue retention1 of over 200% for each of the years ended December 31, 2019, and 2020.
In the three months ended March 31, 2021, Marqeta processed $24.0 billion up 167% from $9.0 billion in the three months ended March 31, 2020.
In 2020, the Marqeta Platform processed $60.1 billion up 177% from $21.7 billion in 2019. This is less than 1% of the annual $6.7 trillion transaction volume conducted through U.S. issuers in 2020.
Total net revenue was $143.3 million and $290.3 million for the years ended December 31, 2019 and 2020, respectively, an increase of 103%.
Update: Marqeta's shares hurdled higher today following an increase in the IPO price. Listed at $27/share, Marqueta closed its first-day trading at $30.52 a share.
The interest in the Fintech has provided a $17+ billion valuation on the company.
In an interview, Marqeta founder and CEO Jason Gardner commented:
"The reason there's a flurry of companies especially in the payment space is that everything is moving to modern platforms. Payments are becoming more digitized."
Speaking with CNN, Gardner commented on their reliance on revenue from Square stating the relationship is strong while the opportunity of the market beyond Square is enormous.
Gardner indicated an interest in crypto adding they are already working with Coinbase and other crypto exchanges.
"The ability to spend crypto at the point of sale is a phenomenal opportunity," Gardner stated. "… I think the fact that we are all talking about crypto and blockchains and different forms of crypto for so long that the ship has sailed. We think that crypto is going to be a great opportunity for Marqeta in the future … to really connect that at the point of sale so people can buy goods and services either online or offline."
Gardner said the biggest impediment to accomplishing this is regulation but using crypto at the point of sale is "truly inevitable."
Gardner also indicated they are looking at other sectors and may consider acquisitions going forward.
Thank you to all of our customers, employees, community, and everyone who has supported us along the way – we wouldn't be here without you. #moderncardissuing #MQlisted pic.twitter.com/YVrWSLq6Yd

— Marqeta (@Marqeta) June 9, 2021
Sponsored Links by DQ Promote