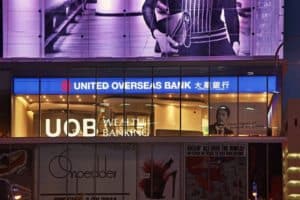 Singapore's United Overseas Bank (UOB), a multinational banking organization with branches mostly based in Southeast Asian countries, has reportedly used Marketnode's digital asset issuance, depository and servicing platform to issue a new bond offering valued at SGD 600 million (appr. $446 million), with a final order book of over SGD $1 billion (appr. $740 million) from 73 accounts in total.
Marketnode, a joint initiative between Singapore Exchange and Temasek, is an exchange-led digital asset venture that's currently focused on capital markets workflows supported by smart contracts, distributed ledger tech (DLT), and tokenization solutions.
The Marketnode platform leverages DLT to connect with different parties that are involved in the transaction, including the issuers and investors. The Marketnode solution tokenizes the capital security, so that smart contracts may be created and executed for greater overall efficiency.
The digital bond is being run along with the traditional issuance process.
UOB's AT1 securities have reportedly been priced at a fixed coupon rate of 2.55%, which the bank confirmed is the lowest for a benchmark perpetual securities for Singaporean banks.
The transaction reportedly saw a subscription rate of 1.7x, which was supported by a large investor base consisting of top institutional accounts and private banking investors. Approximately 92% of them are based in Singapore, meanwhile, the other 8% were international investors.
The perpetual capital securities will be rated Baa1, BBB- and BBB+ by Moody's Investors Service, S&P Global Ratings and Fitch Ratings respectively.
UOB is the sole global coordinator and, along with Credit Suisse, HSBC and Standard Chartered, the joint lead managers and bookrunners.
Wee Ee Cheong, Deputy Chairman and Chief Executive Officer, UOB, stated:
"UOB is fully behind the development of Singapore's digital capital markets infrastructure and the smooth transition to a SORA-centred financial market. As more global issuers and investors come on board and participate in Singapore's digital capital markets, we will see further strengthening of Singapore's status as the region's financial hub."
Sponsored Links by DQ Promote