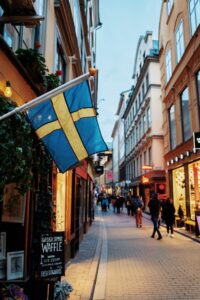 Swedish Fintech firm Dreams has appointed Stefan Krafft as its new VP of B2B Marketing to support the next phase of international expansion
Dreams, the financial wellbeing platform and leader in engagement banking solutions, notes in a release shared with CI that Krafft will focus on driving the firm's B2B customer acquisition strategy and help "facilitate partnerships with some of the world's largest financial institutions."
Stefan joins Dreams with more than 10 years industry experience of establishing B2B tech startups, mainly within the MarTech and Fintech industries, where he has "held a number of senior marketing positions."
Stefan spent around 5 years on the executive management team at Billogram – the Stockholm-based invoicing and payments platform – as the company's Chief Marketing Officer. Having joined Billogram as its first marketing hire in 2016, Stefan "played a pivotal role in driving the company's expansion and helping it grow from an unknown fintech brand to a market leader in recurring payments with over 100 employees," the update noted.
Stefan is also the co-founder of a community platform called HAAARTLAND, and holds a degree in Economics, Marketing and Communication from the Berghs School of Communication in Stockholm.
In his new role at Dreams, Stefan will "largely be responsible for developing and executing the company's branding and positioning strategy and building out an already highly efficient marketing engine, which will be critical in further scaling B2B customer acquisition and boosting Dreams' global expansion."
Stefan Krafft, VP of Marketing at Dreams stated:
"Dreams is on a really important mission to humanise and simplify the banking experience for millions of people worldwide, and I'm delighted to embark on this exciting journey.
He added:
"I have always felt that banking was far too complicated and overwhelming, and that banks have often lagged behind when it came to helping customers take control of their finances. Thanks to Dreams and its groundbreaking scientific approach, however, banks now have a golden opportunity to change this narrative by creating meaningful and emotional engagement with their customers, and making the banking experience a seamless part of everyday life. Now more than ever, banks have a responsibility to look after their customers' financial wellbeing, and this will be critical if they want to attract the future generations of consumers."
Dreams is a provider of engagement banking solutions that leverages insights from cognitive and behavioral science to "enhance financial wellbeing and emotional engagement of banking customers."
Its platform helps end-users "feel good about money by enabling them to not only become better at saving and paying off debt, but also to allocate the money they have saved towards investments."
Banks are able to leverage Dreams' financial engagement tech and behavioral science methodology to "cater to the needs of new, underserved target audiences, and significantly increase engagement, retention and customer lifetime value of their existing customers."
Recently, Dreams teamed up with Ukrainian commercial bank UKRSIBBANK, to integrate its financial wellbeing platform with UKRSIBBANK's mobile banking app and "provide its 2 million customers with a more personalised and engaging user experience."
Henrik Rosvall, CEO & co-founder of Dreams, added:
"We're really pleased to have Stefan on board to help drive our marketing strategy moving forward. His impressive tenure at Billogram where he built their marketing division from the ground up, whilst consolidating their position as a leader in the invoicing and payments space, will prove invaluable to the future growth of Dreams. There is no doubt that Stefan will play a vital role in further showcasing how our partner banks can remain competitive and drive growth by pursuing a values-based business model and putting customers' financial wellbeing at the core of their strategy."
Sponsored Links by DQ Promote