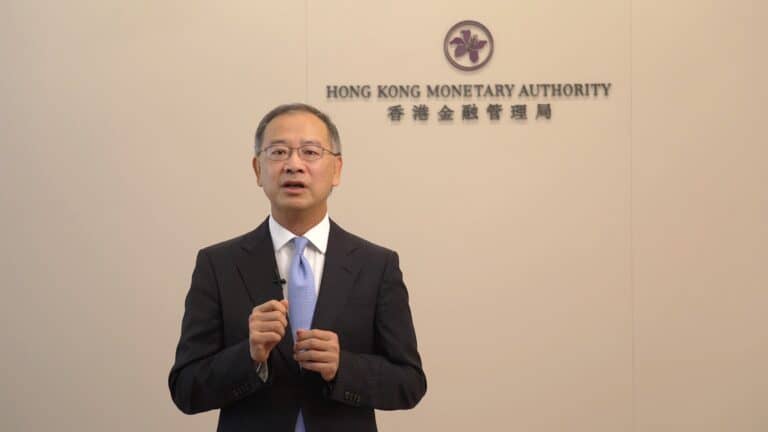 The Hong Kong Monetary Authority (HKMA) and the People's Bank of China have solidified their relationship in a memorandum of understanding (MOU) that seeks to combine innovation and supervision regarding Fintech.
The MOU seeks to implement the "Guangdong-Hong Kong-Macao The Outline of the Development Plan for the Greater Bay Area."  This connects the People's Bank of China's financial technology innovation supervision tools with the HKMA's Fintech supervision sandbox. The MOU aims to "promote financial technology innovation cooperation in a stable and orderly manner under the premise of laws and regulations."
According to the HKMA, the next step will see the two parties adhere to the principles of mutual trust, mutual understanding, and mutual respect under the cooperation framework of the MOU. The goal is to create a "one-stop platform" for Fintechs and other financial institutions to conduct cross-border pilot trials.
Eddie Yue, Chief Executive of the HKMA, stated:
"The development of the Greater Bay Area is a key strategic element of the National 14th Five-Year Plan.  The Fintech Innovation Supervisory Cooperation, in the form of a "network link-up", will allow the Greater Bay Area to reinforce its leading Fintech position and facilitate innovation in the region.  This arrangement also strengthens Fintech supervisory exchanges in an environment of rapidly advancing technology.  Deepening the cooperation between Hong Kong and the Mainland in the areas of finance, technology and supervision, is in line with the direction of enhancing Hong Kong's competitive position and better integrating Hong Kong into the country's overall development.  We will work closely with the PBoC to implement the "network link-up"."
Sponsored