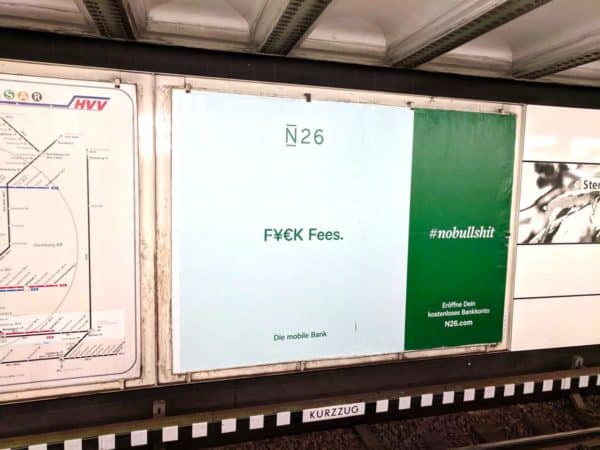 As the company enters its tenth year in operation, digital bank N26 has grown and adjusted with, the times. The company was founded in 2013 by Valentin Stalf and Maximilian Tayenthal and launched their first products in 2015. In 2016 they secured a full European Central Bank license.
Investors like N26. In 2019 they announced a $300 million Series D and a $170 million extension, giving them a valuation of $3.5 billion. N26 now serves more than seven million customers in 25 markets and has offices in Berlin, Barcelona, Madrid, Milan, Paris, Vienna, Amsterdam, Belgrade, New York, and São Paulo.
The company recently answered a series of questions from Crowdfund Insider on lessons learned from their significant expansion and how they are preparing for changes in the marketplace.
---
When you announced your decision to exit the US, you mentioned learning some important lessons for the future. What are some of those lessons? Were there quirks to the US market you did not anticipate?
Having expanded to over 20 markets, N26 is constantly learning as we continue on our journey to be the bank the world loves to use. Importantly, we are closer to the complexities of operating across multiple geographies, where market needs and requirements may differ – even within Europe itself.
In this, we recognize that identifying clear priorities and areas of focus when allocating limited team resources is key – which is why we are choosing to prioritize building an even more compelling and complete offering that brings more financial services and products within the N26 experience. We believe that this will allow us to deepen our relationships with customers, and approach further internationalization efforts from a position of even greater strength.
You also referred to a sharpened focus on Europe. How will that focus manifest itself in product and service offerings?
We are focusing on our core business in Europe for the time being, where we will prioritize the expansion of our product into new verticals. This will allow us to deepen relationships with customers and approach future growth from a position of even greater strength.
One of the new verticals we are planning to introduce is a cryptocurrency trading business sometime this year, together with a partner. In addition, the team will continue to invest heavily in expanding our team capacity strengthening capabilities in the areas of AFC/AML and working closely with local supervisory authorities on compliance-related matters.
As part of your recent funding round, you mentioned expanding your ESOP to 100 per cent of employees. We're seeing a growing trend of tech executives like Dan Price make significant investments in their employees. Can you share why N26 did this and what advantages it will bring you?
N26's team today is 1,500-strong. We are proud to represent over 80 nationalities, with a number of our team members working with us more flexibly than ever before.
Our people are a huge driving force behind the success of N26 and it is incredibly important to us that we can share the success of N26 with our employees. Without them, we would not be the company we are today. It is important for us to give employees the chance to be part of N26's success story and grow their wealth as the company matures. We know that this is also crucial to help attract and retain the best talent globally.
In North America, we have heard about how the pandemic has resulted in a rapid increase in digitization of services. Was it the same in the EU? Two years in, how do you feel the company dealt with changes in banking preferences during the pandemic?
In just a few years, millions of customers have switched to digital banking for its ease and convenience—a trend accelerated by the COVID-19 pandemic. According to our recent Global Digital Banking Index research conducted together with Accenture, Europe is experiencing slower growth than other regions in digital bank adoption however it's clear that Western European countries are catching up quickly. Between 2018 and 2020, the number of digital-only banking customers in Spain increased by 44 per cent, in Germany by 35 per cent, in Belgium by 30 per cent, in Italy by 28 per cent, and in the Netherlands by 20 per cent.
One of the reasons we saw the transition accelerate during the pandemic was because it had effectively wiped out the branch network, potentially hampering the ability to maintain intimate customer relationships. It also increased interest in contactless payments, which in turn reduced the need to visit an ATM.
At N26, during the pandemic, we saw an increase in sign-ups from new age groups and non-digital natives such as the 45-plus age group. People from all ages and walks of life are turning to digital alternatives for the first time and as a digital bank, we must respond to the new trends and be proactive in finding ways to reduce anxiety for our users and helping them navigate new realities. We see it as our responsibility as a trusted brand to help customers navigate times of crisis and have been investing in further education and awareness on security features.
Previously you told a German regulator you would only onboard a maximum of 50,000-70,000 customers per month. What other measures are you taking to remedy shortcomings in risk management with regard to IT and outsourcing management?
Over the past two years, the entire banking and finance industry has seen a sharp rise in online fraud and financial crime. Accelerated by the pandemic, we have subsequently also seen an increase in cases of fraud and fraudulent behavior at N26, especially in online trading and online platforms.
We have significantly increased and strengthened our investment and measures in the areas of AFC/AML and are working closely with the supervisory authorities to further prevent these issues from happening. As a result, we are able to record fraudulent accounts even faster, close them and report them swiftly.
It is of the utmost importance to N26 to be a part of the fight against global financial crime and online fraud. For fraud trends and organized crime to be prevented, it is also a collective duty that requires greater collaboration from the industry, society and authorities. All banks and financial institutions have a key role to play in this. As N26, we are aware of this responsibility and are taking action.
In the last months, N26 has invested heavily in expanding our team capacity and strengthening capabilities. This includes:
Growing our teams and commissioning additional external resources in the last months, further expanding our in-house Anti-Financial Crime Team (AFC) and supporting teams in the product and tech area by 150 per cent in 2021. In addition, we have increased support provided by external consultants. We also plan to significantly expand our business operations department;
Invested more than 25 million EUR in combating money laundering and making sustainable progress in curbing online fraud in 2021;
Further optimized transaction monitoring to identify money laundering and fraud in real-time as one of the first players in Europe to have the capability to do so.
We continue to strengthen our KYC approach with the implementation of further criteria to help identify and block fraudulent sign-ups before these are processed.
In a recent statement, BaFin referenced its May 2021 order "to rectify deficiencies related to the prevention of money laundering and terrorist financing." It said limitations placed on the pace of your growth will allow you to better focus on stronger customer identification processes, transaction monitoring, and suspicious transaction reporting. Do you feel that is an accurate statement? How will those limits help you to attend more to these other areas?
We are a fast-growing bank in Europe with a digital business model and a presence in 24 European markets. To scale our organization in a way that supports sustainable growth, we have invested heavily in building up our human resources, our management team and the necessary infrastructure in recent years. The temporary adjustments in new customer onboarding will mean that the entire N26 team can focus on accelerating efforts to further strengthen our business on the back-end as the top priority.