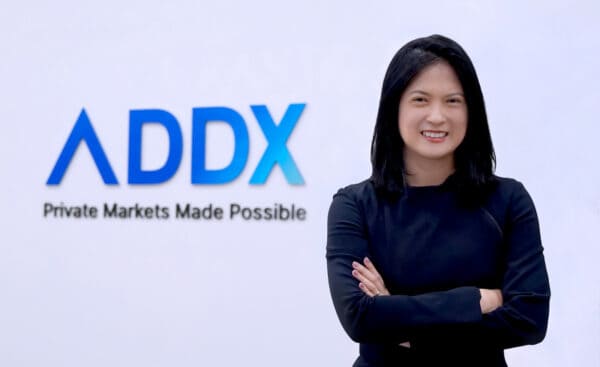 ADDX, a Singapore-based digital asset exchange that is regulated by the Monetary Authority of Singapore (MAS), says it will now accept cryptocurrencies to onboard its customers describing the feature as signaling crypto as "an asset class for the mainstream." ADDX accepts investors globally but requires these individuals to be accredited investors under existing rules.
Under Singapore's regulations, individuals have to meet any one of three criteria in order to qualify as accredited investors:
their income in the past twelve months exceeds SGD 300,000 (~ USD $218,000)
or their net financial assets exceed SGD 1 million (~ USD $720,000)
or their net personal assets exceed SGD 2 million.
While crypto-assets are not currently recognized as income or financial assets, they can be recognized under the third category of net personal assets, explains ADDX.
ADDX said it will recognize only cryptocurrencies with a higher market capitalization and will apply a discount rate when valuing the assets. ADDX will begin with three digital assets – Bitcoin, Ether, and USDC. The discount rates ADDX will apply when calculating the value of these crypto holdings is 50% for Bitcoin or Ether and 10% for USDC (a dollar-based stablecoin). The exchange said it will review these discounts periodically and may adjust according to market conditions.
Cryptocurrencies are here to stay
Investors that are approved to trade on ADDX will gain access to alternative investments such as private equity, venture capital funds, hedge funds, and pre-IPO companies.
Oi-Yee Choo, ADDX CEO, commented:
"Cryptocurrencies are here to stay. They no longer exist only on the fringes of wealth and investment conversations. With a large minority of investors owning crypto, it is reasonable for these digital assets to be recognised as a part of one's portfolio – not unlike any other assets that can be valued in the marketplace, such as real estate or equity. In line with ADDX's mission of democratising private market investing, recognising crypto holdings helps us to serve a much wider segment of investors – not just investors with traditional holdings, but those who hold crypto as well. At a time when the markets are volatile, this move is also designed to enable crypto investors to diversify into the regulated private markets, which tend to be more stable across different phases of market cycles."
Choo said that as a regulated financial institution ADDX is well-positioned to bridge traditional finance and digital assets.
"Investors increasingly expect a seamless view of their complete holdings because their traditional wealth and crypto wealth ultimately belong to a single portfolio. They want the best of both worlds. Last year, ADDX listed our first fund with exposure to crypto, and today we are recognising crypto assets for accredited investor verification. These steps form part of a more strategic and comprehensive crypto roadmap for ADDX. In time to come, we are likely to enable customers to fund their investment wallets with cryptocurrencies and to convert their assets between fiat currencies and crypto."
ADDX pointed to a recent report distributed by Gemini that crypto ownership has risen by 80% with ownership in Singapor at 30%, Hong Kong – 24%, the US at 18%.

ADDX tokenizes, or turns private market assets into digital securities. ADDX claims that gained efficiencies using blockchain technology allow it to reduce minimum investment sizes from USD 1 million to USD 20,000.

ADDX has listed more than 30 deals on its platform including digital assets from Hamilton Lane, Partners Group, Investcorp, Singtel, UOB, CGS-CIMB, as well as Temasek-owned entities Mapletree, Azalea, and SeaTown.

ADDX is backed by the Singapore Exchange (SGX).

Sponsored