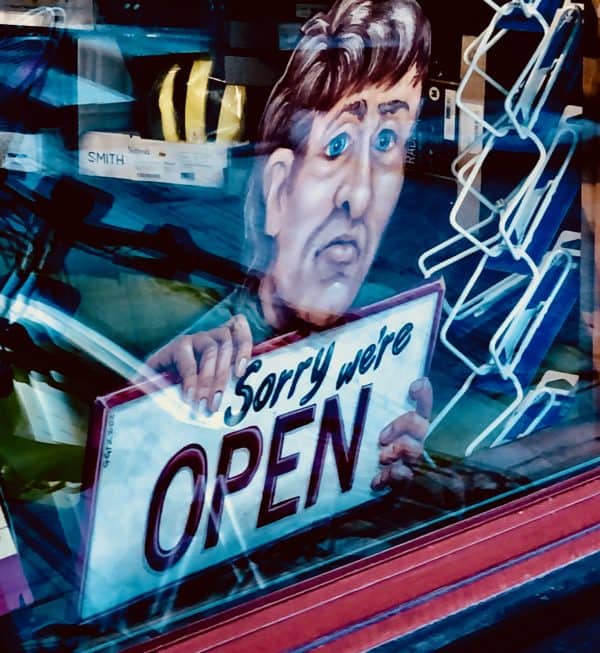 While some people say a proverbial "soft landing" is possible for the economy a growing number of people are expecting a recession as soon as this year or perhaps in 2023. As a recession is two consecutive quarters of negative growth, and the fact that Q1 was negative, we may already be in recession.
Regardless of what the White House is claiming, a 4 decade-high rate of inflation and the painful medicine of increasing interest rates will most likely lead to a foundering economy.
On Friday, the Small Business and Entrepreneurship Council (SBE Council) shared a survey of small business owners and this group is pretty certain a recession is on its way.
According to SBE Council, 88% of small business owners believe that a recession is inevitable.  77% of business owners are worried about the economic activity with only 7% claiming they were unconcerned about inflation.
The survey reports that 62% of small business owners are cutting back on spending due to higher business costs.
The main segments for cost cutting include:
business travel (49%),
equipment and technology (48%),
new hiring (46%),
donations and charity (42%), advertising (41%),
marketing/business development (41%),
memberships/subscriptions (39%),
payroll (25%)
benefits (22%).
Small business owners would like Congress and President Biden to work to alleviate these issues starting with inflation (86%), followed by affordable health coverage (71%), supply chain issues (70%), tax relief and reform/simplicity (68%), cybersecurity (62%), interest rates (60%), the labor shortage and skilled workers (58%) top the list.
At the very bottom of the list of requests is the current legislative push to regulate or break up big tech. As the SBE Council has pointed to in the past, actions that undermine access to technology platforms will harm small businesses the most. Unfortunately, some elected officials believe they can get some political mileage out of it – even if they harm the economy.
"There's little breathing room for our nation's small business owners and their employees. They've gone from one set of economic challenges to the next over the past couple of years, and now they are vastly cutting back on spending and investment, which will have a harmful effect across the economy," stated Karen Kerrigan, SBE Council president & CEO . "The spending actions and investment decisions of millions of small business owners has a major impact on the health of the economy. The collective pull back on spending and investment will be felt in local economies and at the national level alike."
Raymond J. Keating, chief economist at SBE Council, shared that it is not surprising that large percentages of small business owners see economic conditions as fair or poor:
"After all, the latest data and trends, as well as misguided policy responses from President Biden and Congress, warrant real worry. Small business owners are right in prioritizing issues like fighting inflation, and implementing policies that would aid in making health care more affordable and in healing and expanding supply chains, and providing tax relief and reform. Unfortunately, we are seeing the opposite in counter-productive measures like jacking up regulatory burdens and costs, raising taxes, and pushing other punitive and costly measures that target U.S. technology companies."
The SBE Council adds that small business owners are concerned about the impact of digital regulation on costs, competitiveness, finding and keeping customers, U.S. innovation and investment. Almost 80% state that digital tools are key to their business and 48% believe that additional federal regulation and actions attacking U.S. technology companies will have a negative impact on small businesses.
It is not all gloom and doom as SBE Council says that almost 90% of small business owners expect to survive. Time will tell.
"If 7% of small businesses go under, that's a lot of economic damage. Approximately 2 million small businesses could close," explained Kerrigan. "And that is in addition to the economic pain that will be felt as small businesses cut back on spending and hiring.  This all means that it is critical that Congress and President Biden get it right on policy. The currently misguided and damaging activist agenda is bad for all U.S. businesses, but is more keenly felt by our small businesses. The President and Congress must listen to small business owners and their needs, rather than the government-intervention activists who are currently driving the advancement of costly policies."