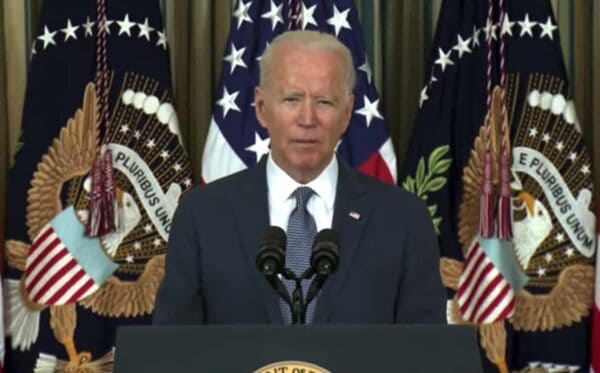 President Joe Biden issued a statement today declaring "junk fees" wrong and illegal.
In what may be an electioneering move, the President declared:
"… my administration is also making clear: Surprise overdraft fees are illegal.  Listen to how those fees work.  And some of — you all know this — I mean, because you know from your everyday lives.  But you pay a bill, and you double-check your bank account to make sure, before you write the check, that you have enough in your account to cover it.  You've gotten the money, so you go ahead, and you pay.
Then it turns out your balance wasn't up to date because your bank was slow in processing other charges.  And by the time the bank gets around to setting — settling the transaction, you've overdrawn your account.  You're charged an overdraft fee that runs around $35 each time.
 
It's not your fault.  The bank screwed up.  You didn't; the bank did.  You had a positive balance when you paid the bill.  It's just simply wrong.  And today, my administration is making clear it's also illegal."
The policy goes beyond bank overdraft fees but also takes aim at credit card late fees as well as other bank charges. These fees will be pursued in concert with the Consumer Financial Protection Bureau (CFPB). Simultaneously, the FTC, FCC, and DOT will pursue other fees assessed on consumers which have been deemed illegitimate.
In the run-up to next week's midterm elections, the White House is attempting to boost its popularity in an election cycle that some predict will be a rout. While final anti-fee rules are not yet fully baked out, they should be received positively by consumers. Traditional banks have long leaned on overdraft fees and other hidden charges – a sector Fintechs have targeted for improvement. Some banks have pulled back on charging these fees, recognizing they may have short-term benefits but do long-term damage on the banks.