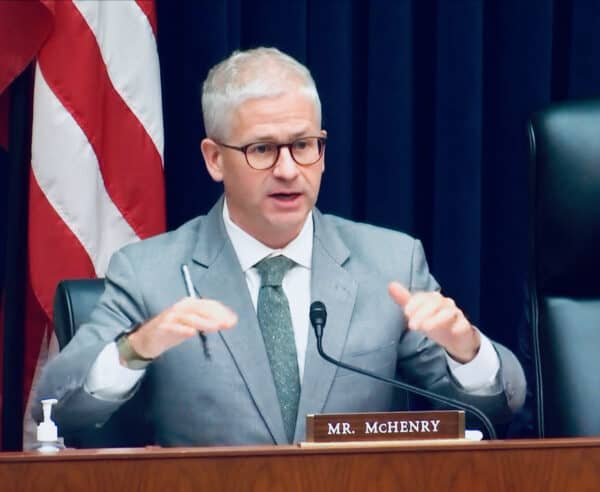 Congressman Patrick McHenry, the incoming Chair of the powerful House Financial Services Committee, has announced the Republican members of the Committee for the 118th Congress.
McHenry issued the following statement on the Committee members:
"I'm proud to welcome all of our new and returning members to the House Financial Services Committee under Republican leadership. From oversight of the Biden Administration, to enhancing capital formation opportunities, to developing clear rules of the road for digital assets – we have a lot of work to do. I have no doubt these Members from across the conference and country will provide invaluable insight to accomplish these goals. The talent and real-world expertise of this group is an embarrassment of riches and I look forward to working with them to deliver on House Republicans' Commitment to America."
It is expected that with the Republicans in control, the narrative of the Committee will shift to provide greater support for businesses, more so for smaller firms and underserved communities. The Committee under McHenry's leadership is poised to pursue legislation that supports access to capital, including online capital formation, while scrutinizing federal regulators which have deviated from their traditional mission. McHenry has long been supportive of innovation in financial services as well.
The new Republican members are as follows:
Patrick McHenry, North Carolina—Chairman
Frank D. Lucas, Oklahoma
Pete Sessions, Texas
Bill Posey, Florida
Blaine Luetkemeyer, Missouri
Bill Huizenga, Michigan
Ann Wagner, Missouri
Andy Barr, Kentucky
Roger Williams, Texas
French Hill, Arkansas
Tom Emmer, Minnesota
Barry Loudermilk, Georgia
Alexander X. Mooney, West Virginia
Warren Davidson, Ohio
John Rose, Tennessee
Bryan Steil, Wisconsin
Lance Gooden, Texas
William Timmons, South Carolina
Ralph Norman, South Carolina
Dan Meuser, Pennsylvania
Scott Fitzgerald, Wisconsin
Andrew Garbarino, New York
Young Kim, California
Byron Donalds, Florida
Mike Flood, Nebraska
Mike Lawler, New York
Zach Nunn, Iowa
Monica De La Cruz, Texas
Erin Houchin, Indiana
Andy Ogles, Tennessee
The House Republican Steering Committee's recommendations for membership of the Financial Services Committee for the 118th Congress will next be considered by the full Republican Conference and the full House of Representatives in the near future.