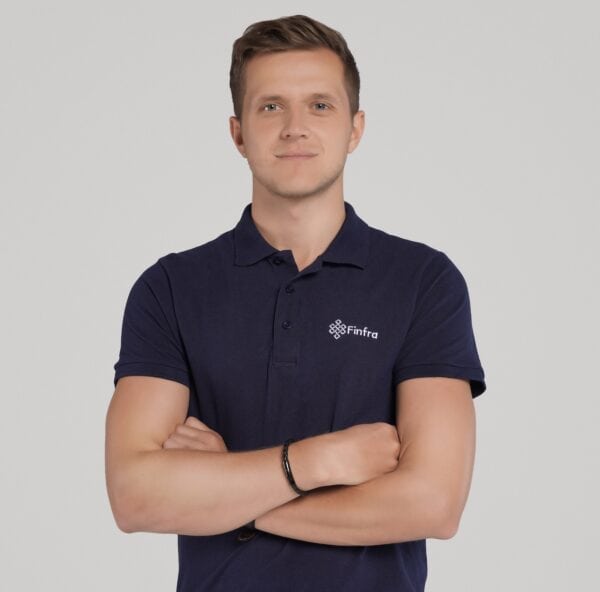 We recently spoke with Markus Prommik, CEO and Co-founder of Finfra, a Fintech platform that develops white-labeled lending products for non-Fintech companies seeking to integrate financial services into their platforms.
Based in Jakarta, Indonesia, Finfra not only provides practical embedded lending solutions to their clients but is also actively working to increase financial inclusion and combat widespread underbanking throughout the region.
In our wide-ranging conversation, Markus discusses the changing financial landscape in and beyond Southeast Asia, the new appeal of embedded lending, and juggling priorities from regulatory compliance to broader financial inclusion.
Markus Prommik is the CEO and Co-Founder of Finfra, the one-stop shop for businesses integrating white-labeled lending products in Indonesia. Following his studies at the Stockholm School of Economics in Riga and the City University of Hong Kong, Markus gained experience in LHV and Magnetic MRO.
His entrepreneurial streak began while traveling across Southeast Asia in 2015, where he recognized the enormous untapped potential of the underbanked region. In 2016, he relocated to Singapore and subsequently to Jakarta, Indonesia, where he founded Danabijak to accelerate access to credit for individuals and SMEs in Indonesia. He launched Finfra in 2022 and remains dedicated to expanding financial inclusion across the region. Markus lives and works in Jakarta, Indonesia.
Our conversation with Markus is shared below.
Crowdfund Insider: Let's start at the beginning. How did you become interested in fintech, and how did the idea for Finfra come about?
Markus Prommik: Nothing happened overnight. It certainly was a process to get here. I co-founded a consumer lending company called Danabijak in 2017. We developed a proprietary lending technology that enabled us to score, qualify, and provide upwards of 500,000 users with services from single-payment loans to larger installment loans. It was a very straightforward way to address the banking gap we found in Jakarta and Indonesia at large. Seamlessness and ease of use were of the utmost importance, so we based our credit scoring system on a user's digital footprint and other relevant statistical data to shrink the time-to-finance from sometimes as long as weeks to mere minutes.
Whenever you're deep in the lending and finance world, you're going to be subject to a number of federal and local regulations, so applying for and attaining the correct licenses was always something in our purview. It was a long, 5-year process, and finally, in 2021, our subsidiary was granted a permanent fintech lending license within Indonesia. Finfra grew out of that. Thanks to the permanent license, we were able to think bigger and develop the white-labeled embedded lending platform that became Finfra.
Once we started offering this new product to non-fintech businesses, we converted Danabijak into a sister company. Danabijak is still going strong and still operates at a profit. In that sense, Finfra wasn't so much an idea we pulled out of the ether as it was a prime opportunity we recognized while working on what has since become its predecessor. I don't think I would have pulled the idea for a white-labelled embedded lending platform just out of the blue – I needed to see firsthand that there was an opening in this specific market for it, and I wouldn't have seen it if I wasn't already entrenched in it and doing related work. Of course, there was an element of seizing the opportunity and understanding the core fundamentals of the business, but I also think of Finfra as a rather logical progression from what we were already doing with Danabijak.
Crowdfund Insider: You're not Indonesian. What was your initial connection to the country? Why have you stayed?
Markus Prommik: That's true – I'm very much not from Indonesia, nor did I study or start my career there. I studied at the Stockholm School of Economics in Riga and the City University of Hong Kong, and I started my early professional life in Estonia in the financial services sector. In 2016, I decided to quit my job and  travel across to Southeast Asia. I knew an opportunity when I saw one. What I saw was a widespread underbanking crisis in the region and I relocated to Indonesia mid-2016. I've been there ever since.
Crowdfund Insider: Tell us more about this underbanking crisis, as you call it. What's behind that, and how is it changing?
Markus Prommik: The underbanking phenomenon is just one part of the enormous transformations that have gone on in the financial sector in Southeast Asia over the last decade and a half. There are 280 million people in Indonesia and 65 million SMEs, but access to finance hasn't caught up with demand. There's a real mismatch between companies that need short-term funding and banks only willing to supply large-ticket, long-term loans. And even then, bank operations tend to be very manual, risk-averse, unwieldy, and expensive – if they are available at all.
HSBC and Citibank just pulled entirely out of Indonesia. All this has created a situation where, for instance, only three per cent of the population has credit cards. Now compare this to most European countries, where between 30 and 70 per cent of the population have credit cards. So there's just this massive gap, and it's created and driven by an outdated financial establishment.
All that being said, there have been huge strides forward in the country. Digitisation happened really dramatically over the last decade. We saw a major uptick in companies offering consumer loans and Buy Now, Pay Later (BNPL) products. Individuals and businesses were seeking alternative methods of banking. This is a part of the world where superapps are dominant, and that's where people began to turn. Now the situation is changing because of the work companies like Finfra are doing, making it possible for people to get the capital they need from alternative sources.
Crowdfund Insider: Are superapps your main clientele? How have they changed the financial landscape here?
Markus Prommik: Apps that have multiple functions and a built-in and loyal customer base are definitely indispensable to our business. There's no denying the significant shift of customer relationships and trust being redirected from banks to brands like Tokopedia, Shopee, Gojek, and Grab, which can mine the existing connections and unique datasets of their daily users. Brand recognition is also key here, particularly when you're convincing a user to put money on the line. Superapps will continue to drive financial inclusion in this region, and Finfra will continue to provide these superapps with the ability to do precisely that.
Crowdfund Insider: Where do local financial regulatory bodies fit into all this?
Markus Prommik: The federal financial regulatory institution in Indonesia is called the OJK. They're very much aware of the seismic changes that have taken place over the last decade, and they've developed a number of regulations and licenses to address it. Financial inclusion incentives are also a major priority for the OKJ.
They recently announced an initiative to achieve a 90% financial inclusion target by 2024, compared to 75% in 2019. We're working very closely with the OJK, and one of the key benefits of integrating Finfra-developed lending products is our top-to-bottom regulatory compliance.
Crowdfund Insider: What sets embedded lending apart from older methods?
Markus Prommik: Embedded lending has a number of unique advantages. It reduces acquisition, data, and underwriting costs. It improves performance through relationship building. It's lending for the modern world, as it can and does consider more than just credit score, and it enables fast distribution of funds. It meets people where they already are, at the point of transaction when credit is the most needed. And thanks to services like Finfra, platforms that want to integrate embedded lending don't have to devote the resources to developing that functionality and ensuring regulatory compliance themselves.
Crowdfund Insider: What has Finfra's own funding journey looked like? What does growth look like to you?
Markus Prommik: Growth has not been a linear process for the company. However, we recently acquired $1 million in funding through a collaborative round by DSX Ventures and Seedstars International Ventures, regional fintech experts Cento Ventures and Fintech Nation, Baltic-based startup support incubators FirstPick and BADideas Fund, and Silicon Valley-based Hustle Fund.
As it did with so many other businesses, the pandemic took a real toll on us, from growth to personnel to product development. It forced us to make a number of strategic investments in improving our tech infrastructure. Our growth strategies had to begin with bouncing back from that, which I'm proud to say we've done effectively. To me, this latest round feels like confirmation that we've bounced back and the opening of a new phase. In concrete terms, we're looking at expanding to other Southeast Asian countries in the coming years. In broader terms, we want to continue overhauling outdated lending modes and driving financial inclusion. Success looks like people gaining access to the capital they need through our products.
By virtue of being a white-labelled platform, Finfra is a little bit behind-the-scenes. Nevertheless our goals and growth are absolutely connected to larger public issues and changes. We are a part of something bigger, and we are driving change that has a real impact on ordinary people's lives. Keeping sight of that is very important to me.