Crowded Media Group's Andrew Dix to explore McLaren Racings vision for NFTs with Director of Licensing, Ecommerce & esports, Lindsey Eckhouse.
LOS ANGELES, CA – October 22, 2021 – Draper Goren Holm, early-stage blockchain venture capital fund and producers of the world's largest blockchain and cryptocurrency conference, LA Blockchain Summit, announced today that McLaren Racing's Director of Licensing, Ecommerce & esports, Lindsey Eckhouse, will join Crowded Media Groups Andrew Dix at the all virtual 8th edition of LA Blockchain Summit, November 2-4, to share insight on McLaren Racing's recent NFT release and what might be on the horizon. One of the world's fastest Formula One teams one stage talking the fastest growing sector in blockchain, this conversation may hit the speed of light. Tickets to the Summit are entirely free and another crypto giveaway is underway courtesy of title sponsor ABRA.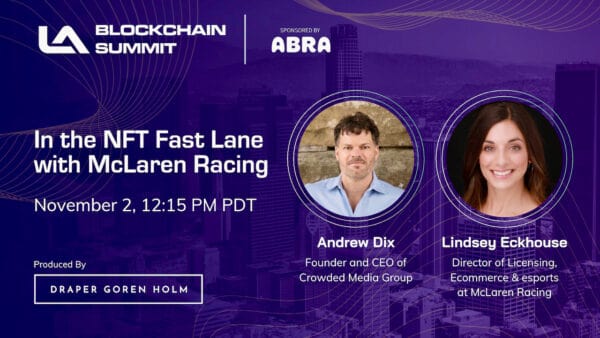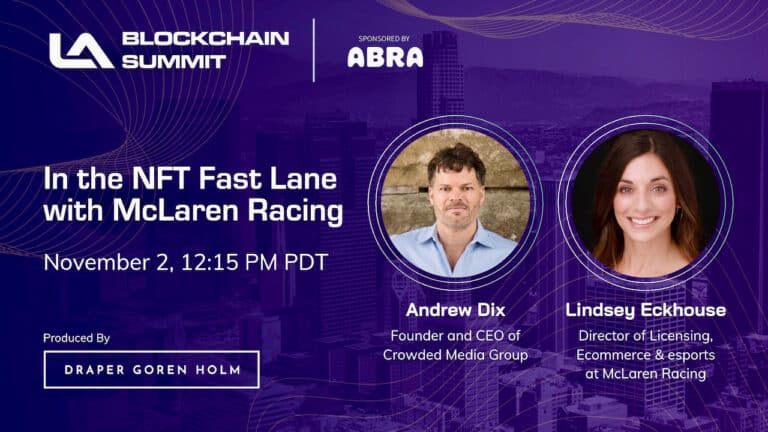 ABRA will be joined by other industry heavyweights such as Robinhood, LunarCRUSH, H2CryptO, Simetria, PLENTY, Rivet, Kalamint, StableTech, SuperWorld, AKRU, Amber Group, Ownera, Sensorium, Degens, TradeStation Crypto, Copper Technologies, Cosmos & Starport, Giftz, PrimeDAO, Litecoin, Stacks Foundation, Algorand Foundation, Stellar Development Foundation, Tezos, Casper Association, Tron, INX, Only1, SupraFin, unFederal Reserve and DeFi Safety.  Virtual booths will be available on the conference platform for attendees to interact with each sponsor throughout the event.
The agenda for LA Blockchain Summit will feature a variety of blockchain and cryptocurrency-related themes including development, NFTs, enterprise blockchain, investment analysis, marketing strategies, tokenized securities, stablecoins, as well as trends and insights from industry experts such as the Draper Goren Holm's Tim Draper, MicroStrategy's Michael Saylor, Security & Exchange Commission's Hester Peirce, Congressional Blockchain Caucus' Rep. Tom Emmer, TradeStation Crypto's James Putra, Robinhood Crypto's Johann Kerbrat, Amber Group's Annabelle Huang, Citi Global Wealth Investment's Alex Kriete and Greg Girasole, and so many more.
Be a part of this year's event by claiming your free virtual ticket today while taking advantage of this year's crypto giveaway at lablockchainsummit.com/giveaway.
---
About Draper Goren Holm

Draper Goren Holm, a partnership between Tim Draper, Alon Goren, and Josef Holm, is a venture studio and fund focused on accelerating and incubating early-stage blockchain and fintech startups, while simultaneously producing the industry's top cryptocurrency events, Security Token Summit, Global DeFi Summit and LA Blockchain Summit. Portfolio companies include LunarCRUSH, Plenty Defi, Tezos Stable Technologies, Totle, Ownera, Degens, Giftz, Vertalo, CasperLabs, Rivet, Simetria, and more. More information can be found at https://drapergorenholm.com.

Sponsored Links by DQ Promote