Promises Made
An individual identifying himself as Michael Waller of Syracuse, NY launched a Kickstarter campaign in the summer of 2012. The project was called the "MD-Pen," or "minimal and durable pen." It is an aluminum housing compatible with many off-the-shelf pen cartridges. Pre-orders were offered starting from $29.
321 Kickstarter backers contributed to Michael Waller's campaign for the MD-Pen. The campaign ended on August 8th, receiving $14,660 of a stated $7,500 goal.
6 months later, no backers have received their pens. There is no clear indication of what happened to the money, and the comment section of the Kickstarter campaign page has become a sounding board for angered backers who are weary of being victims to the latest case of alleged Kickstarter fraud.
Project History
What follows is a timeline according to backer updates and comments from the project's Kickstarter page. Note that our view of events is slightly incomplete as we do not have access to backer-only updates as of yet. These are allegations.

Sometime in July of 2012 the MD-Pen project took off and the funding goal was eventually met. Waller thanked project backers for their support.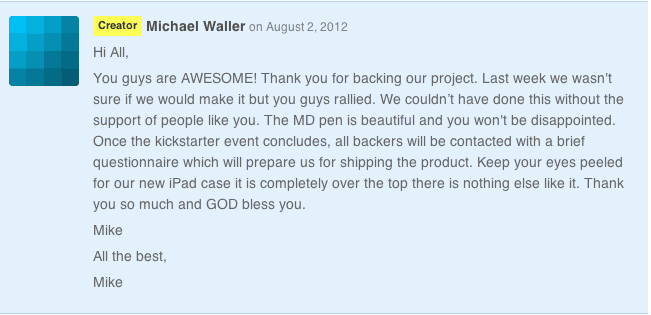 Immediately following the campaign's success, Waller began alluding to production problems that would lead to shipping delays.

Waller continued to post updates frequently and responded to feedback from the crowd on things like the lack of a clip on the pen itself. He eventually notified everyone that fulfillment wasn't going to be feasible for August, but toward the end of the month he laid out some clear timelines and expectations for anxious backers. At this point he also began alluding to a second Kickstarter project he wanted to launch, which was to be an iPad case.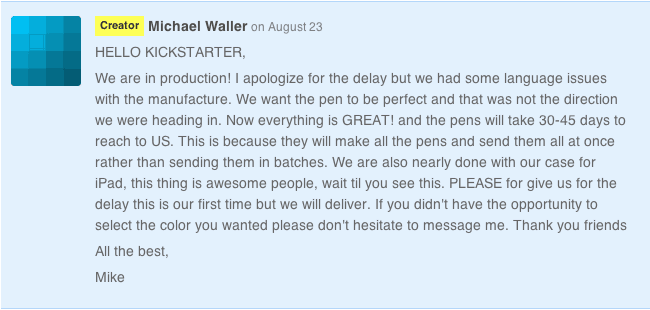 Progress was outlined through backer updates until November 5th, when Waller posted the following public update…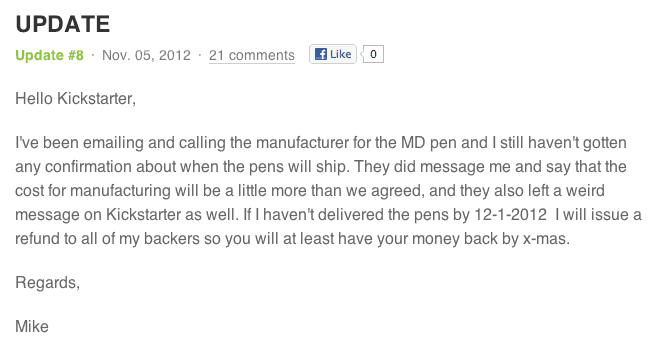 The pens wouldn't ship by December 1. Neither would the refunds.
The Crowd Kicks In
Between the August comment and when Waller resurfaced in the comments in December, the crowd began doing some due diligence:
Kickstarter was notified of the project issues

A backer put Waller's picture into Google's image search and found this article:  http://www.rpi.edu/about/inside/issue/v2n13/romania.html (Waller would later admit to using a fake profile picture because, in his words, "I'm not comfortable with the way I look.")
The crowd discussed reporting the charges and/or Waller to credit card companies and authorities (namely the FBI)
They discussed their options in the context of Kickstarter's Terms of Service (TOS)
Waller was allegedly reported to the Internet Crime Complaint Center, or IC3
They found that Waller had backed other Kickstarter projects since his had been funded
Finally, one backer organized a face-to-face meeting with Waller in a bar somewhere in New York to verify his identity on behalf of the rest of the backers.

Waller allegedly never showed up. The backer that was set to meet him posted an optimistic update about how things transpired…
I went to the bar last night. I haven't been out in a while. I paid $10 for a crappy sweet tasting draft IPA while waiting for Michael. He did not show up but did send me email me proof of who he is while I was in the bar. I also asked Michael to put his real picture on the project and I now see that he has done so.

I am convinced that Michael is seriously trying to deliver the product and fulfill his responsibilities with regard to this project.

Michael, please give us regular updates and good luck.
The Manufacturer Surfaces
At some point in January a backer received an email from a man named Arfian, who claimed to be the manufacturer of the MD-Pen.
Some fella named Arfian emailed me claiming u owed him money for the design and manufacturing of MD-Pen. Seems u did not design the pens at all! Please explain.
Shortly thereafter, a backer-only update was posted to the comments on January 4th where Waller accuses the manufacturer ("Arfian") of hacking his computer and stealing designs and other personal information.
HELLO KICKSTARTER,

To make a long story short. These people did some engineering work for us, and no one else knew about our product but us and them. During the process of trying to find a manufacture we began to learn that we weren't the only ones submitting these designs to be manufactured. Yes, turns out the guy Arfian or some one from his team was trying to sell our designs to manufacturers. We starter putting 1 and 2 together and realized that he was stalling us while he was working on the designs and trying to get them to market before us. He never finished the designs properly. Attached are images of the designs I'm talking about. I believe these people also hacked my computer and stole a lot of information like physical and email addresses and other designs we have on file. The MD-Pen is originally our design and yes he made some improvements to it and he also helped us with all aspects of setting up the campaign on Kickstarter, and it is true we agreed to pay him more if the design had success on Kickstarter. But now after finding out he tried to steal our designs he's not getting anything. The manufacturer in Indonesia is going to let me know exactly how long the delay will be by the end of the day. It's my fought I mis-communicated somethings to them. Arfian no longer works at that company anymore because of his attitude. This manufacturer can be trusted and is reliable. Please be care if you open any attachments from Arfian. I believe he was able to get into my PC using email. Also don't worry about your financial information Amazon does even allow us to see it.. We owe this man nothing so be careful.

Best,

Mike
Arfian allegedly sent a follow up email to a campaign backer explaining his side of the story. That email was posted in the comments and reads as follows…
Well, here's your doozie of an explanation from the manufacturer. Arfian wrote me again to express his appreciation for my post below. You will find that he better explains the situation and desperately wants to clear his company's name from Michael's slanderous post. You may find it to be an interesting read. Enjoy!

Hello Chris,…

Thanks for your last comment, now I know what Raymond and Mike saying about me. I am following any post at MD-Pen campaign intensively and pay more attention at the campaign after I sent an email to some of Backers few hours ago.

First of all, I am not a thief as mentioned in the last update, and I am not a hacker, so that was impossible for me to hack his PC or whatever he said. And about I am stealing the faceplate design or whatever he said, that was not true. Before starting a project, I will ask an NDA (Non Disclosure Agreement) to my client, and I will sign those NDA. So, if I try to sell or reveal the design, they will be able to bring me to the jail or sue me. So, that was a bullshit.

That was true that I ever working on Mike's and Raymond project in the past (that was faceplate project), and that faceplate project finished very long time ago, and I already got paid for that (if that was not finished yet, they will not pay me). And when I do a meeting with Raymond through Skype (I am forgot when that meeting is), he saw my pen which I make it for myself with my CNC machine, and he has an idea to put that pen on KickStarter, and after some discussion about what I get and what they get, I agree with him.

The campaign goes on, and I think you know the rest of the story.

And once again, thanks for letting me know about what that they wrote on the Backer's only update (the last one). I am not a thief, I am a victim. My daily work was Mechanical Engineer & Product Designer, and I have a great reputation at some freelancing site. And the d_Tech Engineering was my own company, I build that from zero for many years now, so when i know that they put the pen with d_Tech Engineering watermark I did not happy and angry (because I am worry that peoples thinking that was d_Tech Engineering fault causing the delay on the pen delivery, and I don't want the d_Tech Engineering looks bad).

Below are some links for my profile in the freelance website, as a prove. I have great reputation in multiple freelancing website. You can read my previous Client's feedback about me, so, that was really not my behaviour stealing something.

https://www.odesk.com/users/~019eeae4d3d641edd4

A few months ago, I do think that just let everything goes (for the money and time that I spent for manufacturing 30% of MD-Pen), but this morning, when I know what happen on the campaign, I think its important for me to lets all Backers know what is the truth. I think I can't do anything to that, but after I am reviewing my files, I found a spread sheet and there is Backers email at that spread sheet, so that I sent an email to the Backers.

I can't do anything on the KickStarter campaign wall since I am not a backer, but hopefully, people like you would help me to straighten everything and cleaning my name.

KickStarter is a great place for a new company, and I don't want its looks bad because of peoples like Mike's. There was a lot of my previous Clients getting a success at that site. So, I am really respect to a KickStarter team.

Thank you very much for your help Chris. Please feel free to contact me if you need more information.

Warm Regards,…

Arfian
Raising the Stakes
Waller last surfaced in the comments on January 6th and responded to multiple backers who had referred to him as a fraud, criticized him for allegedly removing his profile picture and threatened legal action.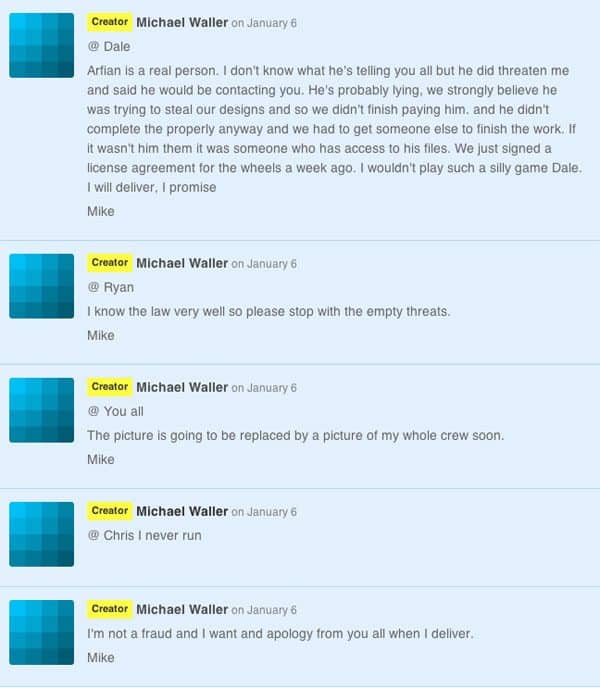 An MD-Pen backer contacted Crowdfund Insider over the weekend and brought the project to our attention in an effort to contact the Kickstarter backer who sued Seth Quest over the failed Hansfree project.

We've reached out to both Waller and Kickstarter for comment but have yet to receive a response. We will continue to update as news becomes available.

Have a crowdfunding offering you'd like to share? Submit an offering for consideration using our Submit a Tip form and we may share it on our site!

Sponsored Links by DQ Promote