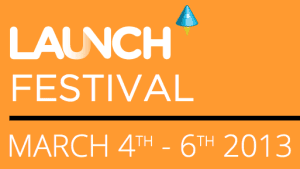 The Launch festival is a three-ring circus. Fifty startups are here presenting on the main stage, 250 startups are in the demo pit, and it's got panel discussions with influencers from the tech community, not to mention nearly 6,000 registered attendees.
To help sort through the noise, Launch partnered with peer-to-peer lending platform MicroVentures and SourceBits, an app development firm, to release a live crowdfunding app that tracks the excitement surrounding the companies as they emerge out of stealth mode.
"The idea is to let the crowd indicate interest in companies in real time," said Tim Sullivan, the CEO of Microventures, in an interview with VentureBeat. "It will be a leaderboard onstage and highlight certain companies getting more momentum than others. Hopefully, it will fuel interest in those companies and enable the attendees to focus more on the companies and less on the chaos. Just because somebody is not an accredited investor doesn't mean they are not knowledgeable or don't understand the space really well. Their voice is just as meaningful."
The way it works is that every attendee receives 10,000 Launch dollars (accredited investors get an unlimited amount) to 'invest' in startups they like.
Read More at VentureBeat