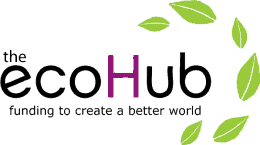 The EcoHub, a Vermont-based online community devoted to crowdfunding eco-friendly projects and nurturing healthy relationships between people and the planet launched today. EcoHub connects individuals to create a critical mass that is collectively working to improve the environment. The goal of the EcoHub is threefold:
Be a crowdfunding agent for EcoProjects with built-in accountability measures
Nurture a community-driven educational outlet for individuals to learn about the issues
Create a viable market for environmental initiatives.
Presently the site has two Vermont-based EcoProjects ready for funding:
The Bin Genie, created by Denise Schomody of Trip Trap Recycling, is a cover made for curbside recycling bins from nylon woven out of recycled fishing net. The goals for the Bin Genie are to keep neighborhoods clean, maximize the efficiency of recycling efforts, and create jobs in Vermont.
The Vermont Sustainable Heating Initiative (VSHI), created by Tom and Beth Tailer, is a volunteer ­run, non-profit organization working to establish a sustainable heating economy for all Vermonters. For the past five years, VSHI has worked with the state's fuel assistance program to provide pellet stoves and wood pellets to fuel assistance clients.
Co-founded by three women with Vermont Law School ties ̶- two current JD candidates, Shannon Clarke and Brianne Fischer, and one master's program (MELP) alumna, Susan Goehring Bailey – the founders credit their time at Vermont Law School and its environmental curriculum for enabling their business concept to grow. The executive team is comprised of these three, acting as Chief Executive Officer, Chief Financial Officer, and Chief Marketing Officer respectively, and Burlington resident Casey Lyon, who is Chief Technology
Officer.

"Our scope of impact surpasses typical crowdfunding platforms because our value comes from connecting individuals to create a community working together to improve and invest in the environment," explained the EcoHub's Co-Founder and CEO Shannon Clarke, "Our mission is to leave the world better than we found it and with your help we can do that and make it possible for millions of others to do the same."

Sponsored Links by DQ Promote