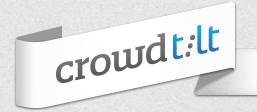 As part of an April Fools joke, crowdfunding platform Crowdtilt ran a crowdfunding campaign to "Crowdfund The Debt" as a method to help pay off the exploding national debt.  The fake crowdfunding campaign picked up mentions in TechCrunch, The Daily Dot and thousands of facebook "likes". It also spiked traffic to the Crowdtilt site driving over 30,000 page views with over 24,000 unique visitors.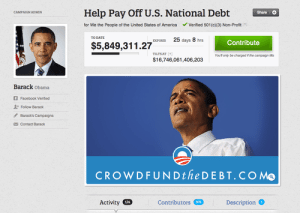 Individuals that visited the site did not have the ability to make an actual donation to the US government but were met with a benign message of,
"You're the hero America needs, but not the one we deserve right now"
And what exactly did the team at Crowdtilt learn?
People actually got fooled, and more than you would think. Now this one, we weren't quite expecting. We tried to match the Obama 2012 campaign aesthetic as much as possible, and succeeded thanks to some design help from our friends at Hypr. But even when you confirmed your whopping $55,820 contribution, we never clearly confirmed it was a joke (although we didn't ask for payment details either). The "realistic prank" is definitely in the April Fool's spirit, but it ended up hurting us: the admins of a Facebook page with a huge following tried to post our link as a favor, but had to take it down after 15 minutes of confused and angry comments.
Call to actions are important, even for one-off efforts like this. We spent so much effort tweaking the page and jokes, that we put minimal effort into how users would land on Crowdtilt as a result. Because CrowdfundTheDebt.com linked to an actual Crowdtilt campaign that eventually required a signup to contribute, we got a pretty good amount of traffic/conversions to our actual site. But there was no clear explanation of Crowdtilt from the gag, and no push to create a campaign once they had signed up.
Apparently, we weren't joking after all? Thanks to a tweet by Seth Juarez, we learned that one can actually give a financial contribution gift to help reduce our public debt. Huh. Who knew? 
We can only hope the National Debt does not reach a point where it does need to be crowdfunded but then perhaps maybe that is what taxation actually is – another form of crowdfunding.

Sponsored Links by DQ Promote